It's been such an amazing, never ending summer this year that salads are even more of a feature in our family  meals than usual; so versatile, and only limited by your imagination – a far cry from when a salad meant shredded lettuce with sliced tomato and hard boiled egg on top, served with a condensed milk dressing. It's not that I'm being sniffy, it's just that variety really does matter, and our whole concept of salads has changed in the last couple of decades. Now a salad can mean a main meal or a side, it can be a noodle based dish, contain meats or not, be served hot, at room temperature or even chilled.
I love exploring different grains in salads, as well as pulses, using them in all kinds of innovative ways – incorporating vegetables, nuts, herbs, fresh and dried fruits, and cheeses too. Dressings are so important, and of course there are some wonderful new products to build dressings on, such as Tart Apple syrup from Tauranga, pomegranate molasses, lovely vinegars and stunning oils.
I have written about farro in one of my earlier blogs, when we were living in Tuscany for a few months; it's a deliciously nutty, chewy, ancient wheat grain that Italians have eaten for centuries, but one we don't know particularly well in New Zealand. It is quite similar in taste and texture to barley, actually, just a bit nuttier and chewier; both can be used in risottos, to thicken stews and of course in salads.
In any case, supermarkets in Tuscany had quite a number of different varieties of farro, most of which had wildly different cooking times; I finally realised, however, that farro perlato was the one most people bought, and that's the one most readily available here; the cooking time is a comfortable 20 minutes approximately.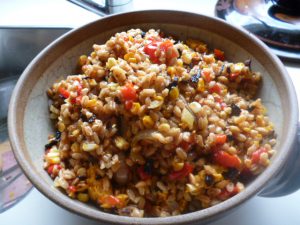 My photos never look as good as the subjects do in real life!
Farro is well worth trying, with more protein and B vitamins than most grains, an interesting texture and the nutty flavour complements almost anything. I've tried it mostly as a salad, with various combinations of these components; fresh mozzarella, capers, sun dried tomatoes or roasted red peppers, olives, capers, parsley, mint, lemon or lime juice, roasted fresh corn kernels, caramelised onions, toasted almonds. Basically, it's like working with pulses – my mantra is, lighten these base ingredients with lots of flavourful, textured other ingredients, they shouldn't weigh the dish down.
Another salad that 's been really popular over the summer is my black quinoa tabouleh; it looks so gorgeous with the green parsley and black quinoa but can also be made with either burghul or couscous – now that quinoa is so popular, it's not a bad idea to use an alternative so that the traditional quinoa growers can keep some for themselves rather than exporting it all. I'm wondering if some inventive folk might come up with a way to harvest and process fathen (fat-hen, a close relative of quinoa) – wouldn't that be a great ugly duckling story, transforming a pesky weed into a great food source!
BURGHUL, COUSCOUS OR QUINOA TABOULEH
  Tabouleh (Tabouli) is a salad to return to, especially in summer. It's worth trying it with couscous or cooked quinoa, however, for a different result than with the more familiar burghul. (One cup raw quinoa produces three cups of cooked, whereas the other two grains produce two cups of soaked grain for one raw). Black quinoa makes a very attractive tabouleh.
Serves 4-6
1 cup burghul or couscous
                        or 2/3 cup black or white quinoa
2 cups finely chopped parsley leaves
1/3 cup finely chopped mint leaves
3 spring onions, chopped finely
¼ cup lemon juice
¼ cup olive oil
1 tsp salt
freshly ground black pepper
3 firm tomatoes, seeded and diced
Cover the burghul with cold water and leave for 30 minutes. If using couscous, cover with boiling water and stand for 7 minutes. For quinoa, cook in 2 cups salted water, uncovered, for 15-20 minutes until the 'curl' is released and the grain is al dente before refreshing under cold water.
 Drain thoroughly in a sieve, lightly pressing to remove all liquid.
Transfer to a serving bowl and add the parsley, mint and spring onions.
Stir in the lemon juice, oil and seasonings. Discard seeds and juice from the tomatoes, dice the flesh   and stir into the tabouleh.
Posted by Rowan Bishop (rowanbishopfoodwriter.blogspot.com)