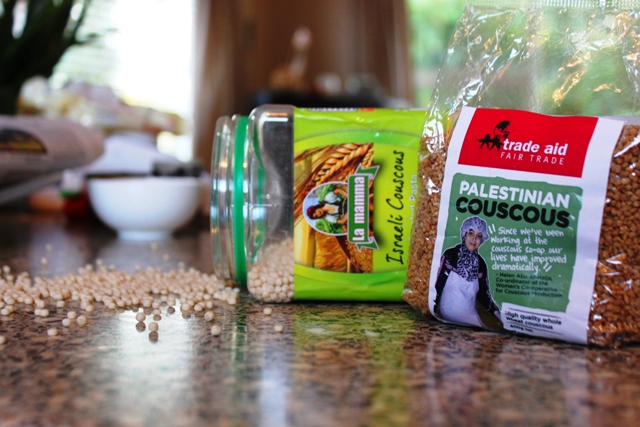 Virgil Evetts
I think I got it from my mother, my soft spot for the underdog. She used to bring home every waif that crossed her path. There were down and out gurus, men who heard reedy voices from beyond, wayward teens, a woman who spoke in tongues and another who spoke to rocks. Mum never judged them, just listened, gave them a meal, a place to sleep and time to sort themselves out- which they very rarely did.  As I grew older, any wide-eyed fascination with these often self proclaimed 'eccentrics' waned. They took up space, they dressed funny and they talked a lot of nonsense. Today I can count on a closed fist the number of unfortunates to whom I've offered refuge. But, like mum, I do ache for the world- I just can't be having mewling strangers in my space.  
So rather than offering refuge to lost souls, I find room in my pantry for the waif-like foodstuffs of the world. Food from, downtrodden places, from the 'Axis of Evil', from alleged hot beds of anti-American activity and from cruel and trigger-happy dictatorships. If Fox News says to fear them, I want to eat their food. I care not one fig for their politics and fisticuffs, but for the people we never see; the workaday Joes and Josies, for the food they eat, and whatever goods they send our way.
I seek out Iranian foodstuffs wherever possible,pashmak, pomegranate juice, fresh medjool dates, saffron and dried mulberries. Such wonderful things. I fear for this largely moderate and educated nation, with its vast and ancient cuisine. In fact, probably THE most ancient cuisine. But thanks to the dum-dum posturing of Iran's piggy-eyed ,anorak loving president Mahmoud Ahmadinejad  -a puppet to an extremist minority- Iran is now firmly in the sights of the 'World Police', and we know how that story inevitably ends. But even if you don't care for the plight of the Persian people, at least seek out some of their fine food exports while you still can. Before the factories fall and the trade embargoes clamp down.
I have a big liberal soft spot for Indonesia too. The sprawling archipelago nation has become the black sheep of South East Asia since the undeniably terrible Bali bombings. But we cannot hold the actions of a few crazed and craven types (religious extremes of all persuasions attract lunatics like moths to a floodlight) against an entire people, and certainly not their foods. The Indonesian people are educated, family-focused, peaceful and largely very poor. Their cuisine is epic, intelligent and incredibly nuanced. It employs spices and technique not seen anywhere else. While, it does have similarities to Malaysian cooking, it lacks most of the Chinese, Indian and European influence and as such is perhaps the most pristine and intact in the region. I love Indonesian food and will always support Indonesian restaurants- for both the food, and to express some sort of solidarity. Actual Indonesian produce is pretty hard to come by in New Zealand- mostly because of the fairly small migrant community here than anything else, but high quality belacan (shrimp paste) and the chunky and flavoursome local prawn crackers, (vastly superior to the multi coloured Chinese version) are not too hard to find. Kopiko coffee caramels are a relic of colonial Dutch rule and are probably the country's best known edible export, and for good reason too- they're delicious.
And just this week, I discovered (in the ever wonderfulTrade-Aid), to my delight, Palestinian couscous. Take that, Israeli couscous!  I don't for a moment think Palestine is blameless in THAT struggle, but the vast majority of its people certainly are. Blame their ancestors, Blame the League of Nations, blame Israel or whoever but there is no denying the average Palestinian has a harder lot than pretty much anyone else in the Arab world (ok except women, adulaters' and gays). They don't have oil to pay their bills or buy friends and their well connected neighbours hate them with a very ancient passion. For the ordinary Palestinian, I feel very sorry indeed. So of course I had to buy the couscous, and yes mostly because of bleeding heart liberalism. I know. But it turned out to be the best couscous I've ever eaten. Hand on bleeding heart.  Each rough textured, hand-rolled grain remains distinct from the rest, and it has real flavour, one of flour, wheat and grainy goodness.  A far cry indeed from the uniform factory made product seen in supermarkets. Proceeds go to a Palestinian women's workers co-op too, which is just about more than my sense of soppy liberalism can handle…
A common theme I find with foodstuffs from all of these maligned and mistrusted places is that they're usually really good. I've formed a theory about this too. They are not made to meet the exacting standards of western supermarket buyers or bland, homogenised tastes and they are largely made in heavily trade-sanctioned nations, which have little to no access to up to date food processing equipment and additives. In a funny sense, western politicking may well have helped preserve their cuisines and food traditions. Not sure how I really feel about this. Don't these people have the same right to ruin their health, sully their food and abandon their traditions like all the rest of us???
You have to be careful though. Supporting goods from truly corrupt nations can be an empty and even detrimental gesture. Most of what you spend could end up in the pocket of some malignant self-decorated general. Burma (Never Myanmar!!!) springs to mind. The same would apply to North Korean goods too, if you could find any. Fortunately trade sanctions and the general lack of anything to eat their takes care of that. I'm sure Dear Leaders family had access to some pretty fine kimchi though.
But isn't this all very tokenistic and shallow? Assuredly.  It's only food after all. But through the food of supposed villains, of terrorists and of so called rogue nations, we are confronted with the obvious truth. People are people. Some are good, some are bad, but most are just human. A little good, a little bad, plodding through another day and looking forward to dinner.