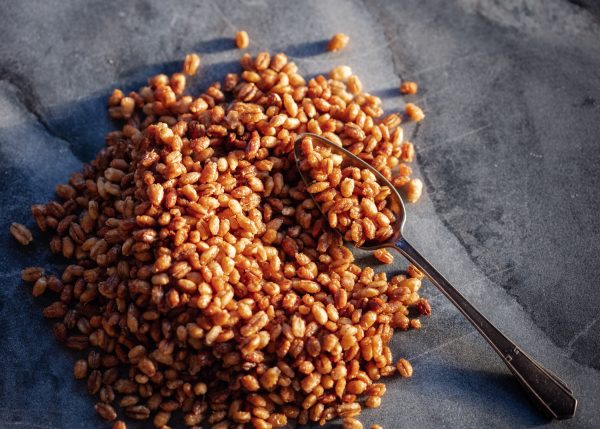 Discovering new flavours and textures is always exciting and something I search for when travelling.
It did though come as some surprise though to stumble across crisp fried barley in Mexico.  Corn yes but barley not so much.
We are at Guidos, on the island of Cozumel and the kids are rebelling against yet another taco dinner so Italian it is.
My salad of summer fresh tomato, bocconcini and basil comes lightly sprinkled with these tiny golden grains of nuttiness that just takes a simple flavoursome salad to a new dimension.  I am huge on texture and anything that has a crunchy nuttiness wins me over every time.  I wonder why this have never occurred to me to try making before now.
Sprinkled on salads, creamy thick soups, risottos, pastas, casseroles, there are so many dishes that can benefit from some texture and while barley does contain gluten it is suitable for those that need to avoid nuts.
To make crisp fried barley simply cook your pearl barley in a saucepan of boiling water for around 25 minutes or until just tender to the bite. Don't over cook it.
Drain well and then spread out on a single layer on paper towels, this helps to remove as much moisture as possible.  Set aside to cool.
Heat 2.5cm of oil in a small but deep sided saucepan until a grain of barley immediately sizzles.  Fry the barley in batches until golden and crunchy.  Don't over cook as then it will become too hard and lose its flavoursome nuttiness.  Drain on paper towels.
Once cool it can be stored in an airtight container for a week or so.
So far I have included it in one recipe with delicious results.
Have you tried frying barley like this or any other grains?
Roasted Cauliflower, Kumara, Rocket and Crisp Fried Barley Salad