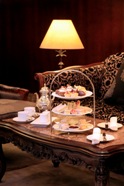 Mother's Day Gift Ideas
Marion Farrell
When it comes to buying presents I usually turn to edible goodies, the never fail to please option. I mean, who wouldn't be pleased to receive a box of chocolates or a good bottle of wine?
With Mother's Day mere days away I've trawled the net in search of Mother's Day gift ideas for the last minute shopper: some novel and most just plain delicious – I hope you find them helpful. 
1.     1.'RAJASTHAN – How to Eat Rose Petals and Silver Paper' – Book Mum a place on this highly informative and entertaining one-day class hosted by the one and only Peta Mathias. The colourful TV presenter, culinary queen and intrepid traveller will share her love of Rajasthan (Land of Kings) in Northern India for its sheer vibrancy and of course, the delectable food.
Peta relished exploring foods with centuries of history, like the vegetarian dishes of Hindu Raja, the opulence of Murghal cuisine, cereals and chillies (to appease hunger) from nomadic desert tribes. She was entranced by the range of breads, rice dishes, fruits, vegetables and learning the subtleties of spices. Now she cannot wait to share her enthusiasm and skills with a local twist for intrepid food- lovers. Cost $210. To book a place see www.ruthpretty.co.nz and go to 'Cooking School'.
 2.  A gift hamper from 'foodie' store Sabato is a great way to treat your Mum to extra-special artisan products. I've chosen to feature 'Morning Glory' for its affordability factor. At $80 it's the store's best buy hamper. This pack is ideal for the Mums out there who savour all things breakfast and it contains a jar of luxury Sicilian blood orange marmellata, a packet of Ines Rosales handmade tortas, Allpress coffee, a bottle of rich Alain Milliat nectar and two tins of Harney & Sons fine teas. Note too, Sabato sell gift vouchers, starting at $10 – this will allow Mum to select from an extensive array of mostly European and local foodstuffs.  Also check out Wellington Truffle for their gift vouchers.
3. Inject a fun element to the day by surprising Mum with an outing. Tell her to get dressed up and you'll pick her up and treat her to a memorable afternoon filled with entertainment and the most elegant afternoon tea, that is, High Tea at The Langham. The 5-Star hotel is current title-holder of Auckland's best High Tea as rated by Metro magazine and serves its guests with the traditional three-tiered afternoon tea complete with sandwiches, scones and dainty cakes in its Rangitoto Ballroom.  What's more Sunday 10 May also promises a Jazz band and guest speaker Nerida Cortese will share her thoughts on motherhood.
Tickets are $55 per person. Children under 12 years old are half price and children under five years are free. Reservations are essential and can be made by phoning   09 300 2809   [email protected]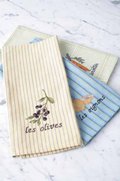 4. For those who are looking for a recession-friendly gift that comes in under $15 – how about one of these French tea towels ($7.50 each) from Milly's Kitchen that will add a touch of je ne sais quoi to Mum's kitchen – hide a bar of Valrhona (available at Sabato and Mercato Christchurch) which is considered to be the Rolls-Royce of chocolate and is favoured by Michelin star chefs ($2.90) within for a special touch.
Sabato – 57 Normanby Rd, Mt Eden & Milly's Kitchen 273 Ponsonby Rd
Mercato – 1-5 Cass St, Sydenham, Christchurch
5. Take a look at www.cookthebooks.co.nz – an online bookstore that's dedicated to cook books to choose a useful tome for Mum. I like the look of Joanne Glynn's 'Slow Cooking' especially as this form of cooking is best appreciated during the cooler months. Mum's bound to find something inspirational in this collection of traditional and modern recipes, including starters, oven-baked meals, stovetop stews, side dishes and luscious sweets. $45.
6.  Musical mums are sure to enjoy listening to Dame Malvina Major and the Christchurch City Choir in Christchurch this mothers day.
What do you have in mind for mum and or are there any special events on in your areaa that you would like to share?