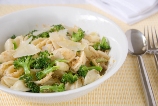 With current research telling us that certain fruits and vegetables can prevent cancer, aging and many other ailments then it makes sense to eat more of them.
For generations NZ mums have coerced, bribed and threatened children to eat their vegetables, I can't help but wonder if this is partly due to our history of plain boiled or steamed vegetables and whether Asian and Italian mums face the same battle?
Steamed vegetables are of course acceptable on their own but lets face it they are a lot more interesting once seasoned or served with a sauce.  Gado gado,  wouldn't rate a mention if it was solely a large plate of steamed and raw vegetables. However, once it is drizzled with satay sauce it is suddenly transformed into a recipe that features in books.
Broccoli is receiving loads of attention and praise in the world of nutrition. It is a reliable winter vegetable that grows easily and is always available at the green grocer. This simple pasta dish is delicious and packed full of broccoli. For an extra flavour dimension try adding sliced kalamata olives.
Pasta with Broccoli, Lemon and Garlic Crumbs.
Anchovies are great in this dish, they tend to melt when heated so impart a gentle richness as opposed to a strong individual flavour.
Olives are also delicious in this as are capers.
400 g shell pasta.
I large head broccoli
2 tablespoons extra virgin olive oil
¾ cup fresh breadcrumbs
3 cloves garlic, crushed
finely grated rind of ½ lemon
2 anchovies, chopped (optional)
shaved parmesan cheese for serving
Cook pasta in boiling, salted water for 10 minutes until tender.
Divide broccoli into small florets, discard thick stems. Bring a saucepan of water to the boil and simmer the broccoli for 4 minutes. Drain the broccoli in a colander and then drizzle with olive oil. Meanwhile toss the breadcrumbs, garlic, lemon rind and anchovies in a hot pan with a little oil until golden. Gently combine the broccoli with the drained pasta and serve topped with breadcrumbs and shaved parmesan cheese.
Serves 4.