Helen Jackson
While I have been procrastinating writing about lemons, my trees have fruited and finished –  we seemed to have baskets of lemons for weeks and now have none and I am back to buying them.  I am hoping that the rest of NZ are still growing.
I am nurturing my young  Yen Ben tree and waiting for it to produce fruit and keep me happy as ridiculously all of my 10 or so lemon trees are Meyer and the fruit just isn't what I want.  Meyer are not a true lemon – they are thought to be a cross between a lemon and a mandarin or orange and while they are juicy and floral they lack the serious acidity of other lemons and therefore can be bland in recipes.  While sense tells me I should haul out a couple of the Meyer and replant with Yen Ben, I actually find it really hard to take the life of something that is healthy and growing strong just because it doesn't suit my needs.
Yen Ben originates from the popular Lisbon lemon, it has few seeds and is juicy with a thin skin.  It is also hardy.
For cooking and baking eg  lemon strawberry tarts, lemon curd , sticky lemon slice,  crunchy lemon muffins, easy lemon yoghurt cake,  lemon pistachio shortbread, delicious citrus tart, smooth lemon risotto, easy lemon chicken with sage or any of our other lemon recipes
I would recommend you use something like Yen Ben or Lisbon – however Virgil also is keen on Ponderosa – see below.

 Lemon Tips and Trivia
To enhance the juiciness of lemons simply roll with the palm of your hand on the kitchen bench or microwave until just warm.
 While your dentist may not like it, a glass of warm water with a good squeeze of lemon is a refreshing way to start the day.
Lemon juice is great for tenderising, enhancing flavour and also preserving colour in other fruit and vegetables.
Lemons are a great source of vitamin C

The rind has the perfume of the lemon whereas the juice carries the flavour and acidity.
A lemon zester is the best way to remove lemon rind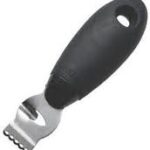 If you are only using the lemon for juice then use a zester and remove the skin and freeze it in small bags or containers for a later use.
Lemon trees will tolerate light frosts for a short period of time but generally prefer to be warmer.
Lemon trees are huge feeders see here for details on feeding and care.
For the long term health of a lemon tree, sacrifice the first season's fruit.
If making a lemon and honey drink then use warm water as opposed to boiling water in order to maintain as much of the health giving properties from the lemon and also the honey.
Preserved Lemons are a good way to use up excess lemons – but only if you think you will use them and like Moroccan style dishes.
 Lemons  (taken from a past blog from Virgil)
Should be the top of any cooks must-have list. If you don't use this fruit regularly, wake up. Lemons are undemanding trees, they like warmth, sun and a bit of food. For that true lemon flavour you need to squeeze past that big display of Meyers [a cold-hardy hybrid between a lemon and an orange much pushed by garden centres] at your local nursery and search out a true lemon such as Yen Ben or Villa Franca. For something a little more adventurous try a Ponderosa. These monsters can reach a kilo or more per fruit and have thick, fragrant peel, perfect for Glace. Like all citrus, lemons are available on gangly, grow-em big Trifoliata root stock, or the spiky, dwarfing Flying Dragon. One or the other will suit your situation. Barely a day goes by where I don't use lemons for something: Salad dressing, marinades, serving with fried food, in curries, in cocktails. Simply indispensable.
Any lemon tips from you?