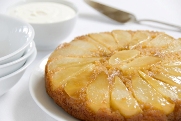 There is something very comforting about an upside down cake.  Perhaps it is its homely rustic qualities that differentiate it from many other cakes.
I don't know what started my fascination but this winter upside down cakes and puddings have featured high on my list of favourites.
My mother in law has a lovely recipe for a variation with walnuts and my own repertoire includes blueberry, banana, apple and of course the ubiquitous pineapple.  While I prefer to use fresh pineapple, for years the very sweet canned pineapple version has graced many an afternoon tea or supper.  Historically, it is likely that the first oven baked upside down cakes were made with canned pineapple, records date back to the early 1900's sometime after the opening of the first pineapple canning factory in the US.  While other upside down cakes featured as early as the Middle Ages, they were cooked in a frying pan as opposed to an oven baked cake.
While most fruits or nuts can be used on their own or combined the general idea is that brown sugar and butter form the important caramel that coats the topping and gives the cake its sheen and ultimate appeal.    Visual appeal rates highly with upside down cakes so when you are arranging your fruit or nuts in the base of the pan remember that they are eventually the star of the show and organise them accordingly.
This upside down pear cake is delicious although I am about to do some more experimenting with gingerbread style cakes.