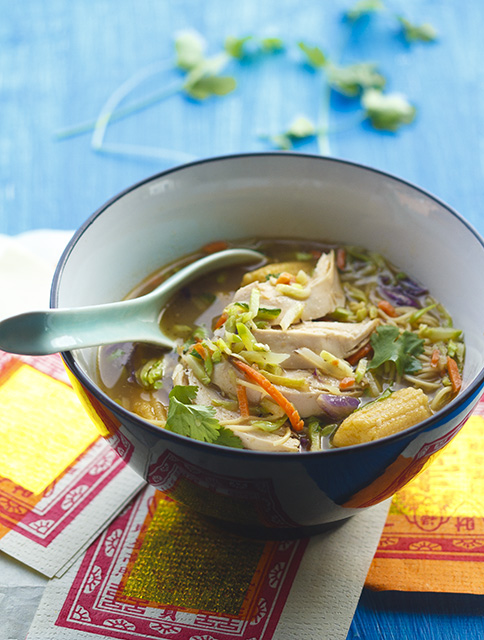 Ingrid Opera from Food Opera
This recipe is made from the leftovers of a ready cooked roast chicken from the supermarket. It's great because it uses up the entire chicken after you have devoured all the succulent bits. All the flavours from the roast chicken, make this noodle soup delicious, especially if it's bought ready flavoured.
What you need
Chicken broth/ stock
• Chicken carcass from a ready cooked chicken (remove any excess chicken and set aside)
• 6 litres water
• 3 star anise
• 3 cloves of garlic, peeled and smashed
• 3 cinnamon sticks, broken in half
Noodle soup
• 200g noodles ( I used egg noodles)
• 1 can of baby sweetcorn
• 1 cup of red cabbage and carrot, shredded or grated
• 2 tablespoons light soy sauce or oyster sauce
• 1 teaspoon sesame oil
• handful of coriander, fresh
How to make
1. In a large pot add water, chicken carcass, star anise, cinnamon sticks and garlic.
2. Bring to the boil, and then simmer for 2hrs. Skim off any fat and sieve out the spices.
3. Add baby sweetcorn, red cabbage, carrot, and noodles, soy and sesame oil and any leftover chicken
4. Cook for 5 minutes.
5. Serve with a scattering of coriander.
Serves: 4