Soup must be one of man's oldest foods since it would have been discovered at the same time as boiling was used as a method for cooking.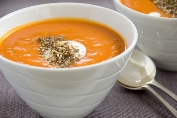 I love the versatility of soup – it can be thin, thick, smooth or chunky and even hot or cold. 
Soup can precede dinner or be the hero of the meal itself.   At this time of year I tend to gravitate to the thicker varieties such as roast pumpkin soup,  (pictured), leek and potato, garlic soup, mussel chowder or cream of mushroom
I often make soup first thing on a Sunday morning and the aroma from the gentle simmering soup permeates through the house and by early afternoon it is enjoyed with warm cheese scones.
Soup is restorative to those not feeling well in particular chicken soup is often given to those feeling under the weather. A large saucepan of traditional vegetable soup simmering on the stove can also create a feeling of wellness to any home.
Asian noodle soups generally have a wonderful array of flavours and textures.  If you are lucky enough to be able to buy BBQ duck then try this duck and noodle soup.  This Thai noodle soup is also great as are wonton noodle soup and pork noodle soup.
There are a few tips to good soup making.  A rich flavoursome stock is essential, either homemade or purchased, the flavour will determine how good your soup is. 
Sweat your base vegetables – onions, celery, carrot, leek etc… in oil or butter prior to cooking.  This helps to intensify the flavour.
If you are using fresh herbs in the soup add them again at the end as often herbs lose their flavour during cooking.
 Garnishes and accompaniments can be as varied as the soup itself.  I love dukkah and have been sprinkling that on my pumpkin soup along with a good swirl of greek yoghurt.
Popular soup garnishes
Sour cream, cream or yoghurt
Fresh herbs or edible flowers
Crisp fried onion,
Parmesan cheese
Croutons – plain, garlic, cheese, bacon
Fine strips of omelette
Pan fried sage
Finely chopped fried leek or parsnip
Toasted nuts or seeds
Salmon roe
The first restaurant to open was in Paris in 1765 by M. Boulanger a soup vendor.  Above the entrance to his shop was inscribed Venite ad me omnes qui stomacho loaboratis et ego restaurabo  (come to me all whose stomachs cry out and I will restore you).