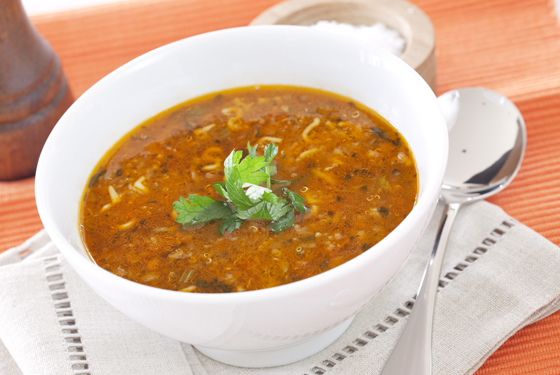 Virgil Evetts
There is plenty to dislike about winter – the rain, the cold, the gloomy grey skies – but it does bring out the best in those of us of a food-centric disposition. While others spend the winter in sulky hibernation we busy ourselves in the kitchen, making the most of robust winter produce, and doing our very best to fill the house with the welcoming, homely aromas of stews, casseroles, pies   and soups.
Of all these winter standards, soups are probably my favourite. I love the endless variety of soups and how on a cold winter's night they envelope you in a miniature sauna of gorgeously fragrant steam. I love the complexity of flavour hidden in their murky depths and as an essentially lazy bastard; I really love the ease with which most soups can be prepared.
All things said and done, soups are little more than dressed-up stock. That might sound somewhat scathing but it's true, and in my opinion, is no bad thing at all.  Assuming that is, you have access to very good homemade stock. Don't bother toying with soups if you habitually defer to powders and cubes. I wrote an article about making stock last year, which might be worth a read if you're new to the game.
At home I like soup to be an all-in-one meal, so I don't go in for broths and consommé.  While these can be lovely as part of a multicourse meal at a restaurant, they're just too insubstantial and fussy for my home tastes.  Homemade soup should be big, bold and weighty or why bother?
My absolute favourite all-time soup is French Onion. Yes it's terribly old fashioned; positively 1970's bistro in fact, but it still reeks of sophistication – and onions. It requires very, very good beef stock, lots of slow-cooked onions and a healthy appetite. This soup would be on my last supper list, if I had one. French onion soup makes a great tonic if you're feeling run down or when the winter bugs coming a-calling (if you need an excuse that is).  On a similarly medicinal but delicious note, this garlic soup  can really hit the spot too. Rather than being violently garlicky as one might expect, this soup is really quite mellow, but still well-endowed with the irrepressible sexiness of the great bulb.
The British food repertoire does not exactly shine when it comes to soups. Settle, little expats, settle. What little they do contribute tends towards clarified broths and various 'creams of,' which are, I think of rather limited appeal or practical use at home. One very noteworthy exception to this is Stilton soup, a British classic and a thing of potent beauty.  This is not, however, a soup for the faint-hearted, or weak-hearted for that matter – it's packed to the rafters with blue cheese (any double cream blue will do), cream and butter. What's not to like?  If you want a slightly – and I stress slightly – healthier alternative, try this broccoli and blue cheese soup. Broccoli and blue cheese are just perfect partners and should be wed wherever possible.
Some of the most satisfying and warming winter dishes are vegetable soups – think pumpkin , kumara, carrot and leek . These are the soups that make people smile and sigh in nostalgic contentment. They should be served piping hot and with plenty crusty buttered bread or toast. Nothing smells of home, shelter and family like a good vegetable soup. Minestrone is probably the most famous vegetable soup in world, and quite deservedly so.  It's a rich and pleasing amalgam of beans, tomato, pasta and deep, dark stock, and is particularly good straight from a thermos flask at the end of a wintery country stroll.  This alphabet vegetable soup is a proven hit with the kids, but is just delicious by anyone's standards. Actually, in my observation, children will eat most vegetables if they're in soup form.  A possible exception to this might be kohlrabi . Nasty, nasty vegetable.
Some of the easiest soups to make are of the Asian-style noodle kind. These are the ones I'm most likely to make of a weeknight, as they can be assembled quickly from ordinary pantry items.  This Vietnamese pork noodle soup  is an excellent example of the genre.  It's spicy, fragrant and the very stuff of satisfaction, but like most Asian soup gets its bulk and substance from noodles, meat and vegetables, rather than heavy thickening agents such as roux and cream.  On a similar but slightly more luxurious note is this duck and noodle soup . Try keeping a supply of Chinese BBQ pork and duck in the freezer. These recklessly tasty meats are hard to replicate at home, and can be used in any number of rice dishes and soups. A little goes along way too. Well that's the theory.
There are many schools of thought about what one should dip (if at all) into various styles of soup, but ultimately, it comes down to personal taste. That said, toasted ciabatta dipped in an Asian noodle soup would be a little unusual.
For European style soups, thick toasted crunchy sourdough bread, dressed with olive oil and salt flakes, is very welcome – and plenty of it too. Running out of bread with half a bowl of soup to go can make for quietly scratchy dinner guests, so be sure to keep it coming. Most Asian style soups don't really need any extras, but if you really must dip, roti is probably your best bet. Uncooked roti are available in the freezer aisle of most supermarkets and are quick and easy to prepare.
All though winter seems to last forever, it's really over in a few short months. Don't waste the briefly brisk season moping and shivering; dust off your stock pot, buy some beef bones and steam up your windows today. So to speak.