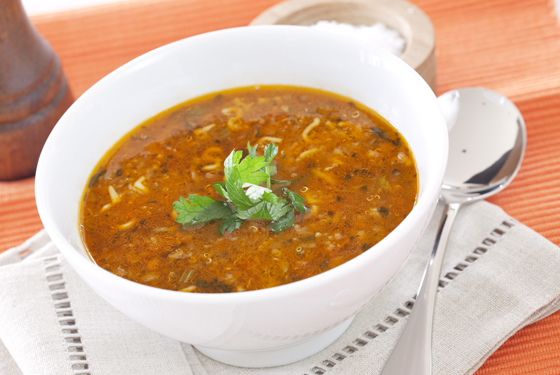 I like using quinoa in this soup but you can of course use the traditional barley or other grains of choice.
Alphabet pasta is fun but not essential, you could also use orzo.
Ingredients
1/4 cup

olive oil

4

onions, finely chopped

3

stalks celery, flinely sliced

3

carrots, finely chopped

2

courgettes, grated

1-2 teaspoons

salt

1 tablespoon

tomato paste

1.5 litres

beef stock

1/2 cup

quinoa

3/4 cup

alphabet pasta

2 tablespoons

pesto (optional)

1/2 cup

chopped parsley
Method
Heat oil in a large saucepan and gently cook onion, celery, carrot and courgette for 10-15 minutes until tender.
Add tomato paste and stock, bring to the boil and then simmer for 45 minutes.
Add quinoa and cook a further 15 minutes before adding alphabet pasta and then simmer for a further 15 minutes.
Stir through the pesto and parsley and simmer for 2 minutes further.
* The flavour of the soup will depend very much on the quality of your stock.  If the soup seems watery and lacking in flavour then I would suggest adding 1 beef stock cube.