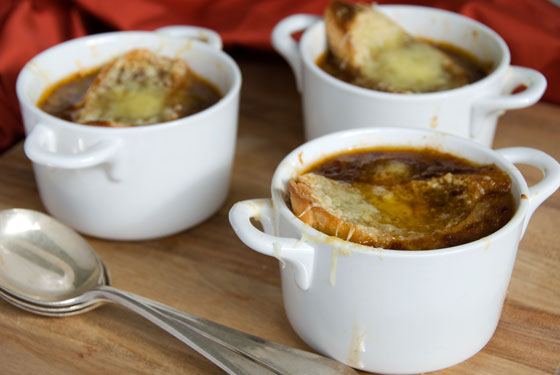 Ingredients
1

french bread stick

olive oil

2 cloves

garlic, crushed

50g

butter

700g

brown onions, thinly sliced into rings

1 teaspoon

sugar

1.2 litres

beef stock

1/2 cup

white wine

2 tablespoons

brandy

salt and freshly ground black pepper

150g

gruyere cheese
Method
Preheat oven to 180 C Slice the bread into diagonal slices, 2 cm thick. Mix 1 tablespoon
olive oil with the crushed garlic and brush over the bread. Bake for 20-25
minutes or until crisp and golden. Melt the butter with 2 tablespoons olive
oil in a large saucepan, add the onion, garlic and sugar and cook over a
med- high heat for 5-6 minutes or until the onions are starting to colour.
Reduce the heat to as low as possible and leave the onions to cook for a
further 30 minutes until onions caramelise. Pour in the stock, white wine
and season with salt and freshly ground black pepper. Stir with a wooden
spoon and bring to a simmer, reduce heat and leave to gently cook for an
hour. Before serving bring soup back to a simmer and add brandy. Pour into
warm soup bowls and top with croutons, sprinkle with grated gruyere and
grill until cheese is golden and bubbling.