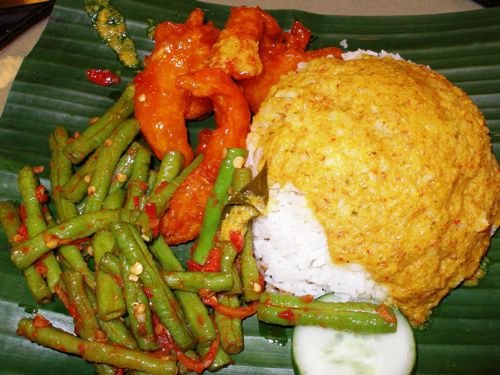 Virgil Evetts
There is always room on my palate and plate for a smidgeon of relish, sambal, sauce or chutney. I've  never been one to settle for default settings, so I like to customise every mouthful. It's theses final flourishes and accessories to a meal that can make all the difference to me, as  after all, both God and Devil are rumoured to reside in the details.
My favourite side dishes and condiment change with season and circumstance, but sometime I just get locked on to certain flavours for no particular rhyme nor reason. Right now I'm working my way through dual and rather disparate obsessions with a sweet and spicy sambal from Indonesia and a sour, creamy coconut chutney from Southern India.
Sambals
Sambal is the generic name for a huge group of mostly chilli-based condiments found throughout Malaysia, Singapore and Indonesia. Although a diverse lot in terms of core ingredients (which can include everything from tomato ketchup to fermented durian), all sambals are typically spicy, sweet, salty and sour. Fans of South East Asian cooking will be quite familiar with this harmonic approach to flavour. Many sambals develop a distinctly meaty quality too from the addition of shrimp paste (belecan), dried anchovies and sometimes ground fresh seafood or even meat.  Far from being just another sauce sambal served with steamed rice is a staple and highly nutritious meal among many  poor Indonesians and Malays.
Sambal Ikan billis at least as I'm presenting it here is something of an entry level sambal. It isn't too spicy, nor anywhere near as pungently shrimp-pastey as many of its kind. Although traditionally served with coconut rice (nasi lemak or nasi uduk ) sambal Ikan bilis works exquisitely well with gado gado, satay, plain steamed rice and fried chicken or fish. Don't be put off by any of the less familiar ingredients here. They might be a bit whiffy on their own, but they meld into something magical. Surely you trust me by now?
Sambal Ikan Bilis (Dried anchovies sambal)
1 red onion- finely chopped
½  cup ikan bilis soaked in warm water until soft (about 2 hours)
4 cloves garlic- crushed
3 + dried long red  chillies (+ or – to tatse) – finely chopped
1 teaspoon of belacan
salt to taste
2 tablespoons of sugar
1 tablespoons tamarind concentrate OR juice of 2 limes
I can tomatoes –chopped, drained and gently squeezed of pulp and juice
Method
Drain the ikan bilis (discard water) and pulse in food processor until coarsely ground. Gently fry the onions and garlic until golden and sweet. Add the belecan, chillies and ikan bilis.  Add the tomatoes, sugar and tamarind/lime. Gently sauté until thick, and slightly sticky- about 5-10 minutes.  Add salt and if necessary more sugar to taste.  Can be refrigerated for a couple of weeks.
South Indian Chutneys
The word chutney has been twisted by time and place to mean something quite different from its' Indian roots. Whereas here we tend to think of chutney as a sort of wet, pickle-based gloop, in India- especially in the south the word denotes  fresh, zesty condiments and side dishes designed to be eaten straight away. There are literally hundreds- probably thousands of chutney made in Indian, Pakistan, Sri Lanka and Bangladesh to suit every conceivable cultural, religious and dietary persuasion.
Coconut chutneys are typically South Indian and are usually made with the regions abundant fresh coconut. This never seems very practical in New Zealand. More to the point I'm too lazy to bother with 'fresh' (if you can ever really call them that here) coconuts. So I modified my recipe to use desiccated coconut. To any Indian readers I apologise. Please don't tell your Mums.
Coconut Chutney
1 cup desiccated  coconut – soaked in a 1 ½ cups of hot water until fully absorbed
2  teaspoon uncooked brown lentils- toasted in a hot pan
5cm  piece ginger peeled
½ cup  fresh coriander leaves
lemon or lime juice and salt to taste
1 teaspoon each of mustard and cumin seeds
½  teaspoon asafoetida powder  (optional)
1 sprig fresh curry  leaves
1  dried red chilli- finely chopped
2  tablespoon vegetable oil
In a food processor or blender, grind together the coconut, lentils, ginger and coriander leaves until you have a very smooth paste.  Transfer to a bowl and add lemon/lime juice.
Heat the oil in a small pan and add the mustard seeds, chilli and curry leaves. Fry until fragrant and the leaves are crispy. Pour the hot oil and seed, chilli and leaves over the coconut mix. Briskly stir together. Adjust seasoning to taste. Serve with pilaffs, biriani, fish and chicken dishes. This is one of my favourite recipes ever. I was a bit conflicted about giving it away to be honest.
I know what some of you are thinking about these recipes " too spicy, too weird" etc… But go on… live a little.