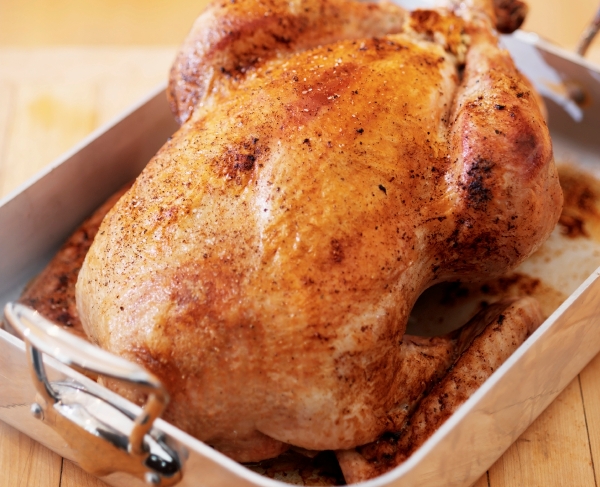 If there is one part of Christmas dinner that is going to cause stress it is likely to be cooking the turkey.  How many times I have heard stories of dry overcooked turkeys or even worse under cooked turkeys? I think the worst story has to be from my radio co-host Tony Murrell who put the turkey into the oven on "auto clean" by mistake and completely cremated it!
Another friend was so proud of her achievement of cooking a perfect bird but while the meat was resting the friendly labrador had Christmas dinner first!
In our family growing up we had roast lamb and a ham and maybe some chicken but never a turkey.  Aside from reading about them in books it was something I don"t think I had even tasted until my mid 20's or later.    Nowadays I do generally cook a turkey and we also have a glazed ham.
Turkey's do need a little care to ensure that they are cooked just right but it is definitely achievable.
Many people opt for brining their turkey overnight in a salt solution with flavourings such as apple juice and spices.  This will definitely give moisture to the meat and is a method that is highly recommended for producing tender succulent turkey.
Another option is steaming and then browning it at the end.
Turkey portions are also available and you can buy breast on it's own or the very affordable turkey drumsticks.  These are generally from Tegel turkeys.
Croziers free range turkeys are available at good food stores around NZ and are genuinely free range.
If you are roasting your turkey without brining then here is a simple method worth following.
1. Remove the turkey from the fridge at least 3 hours before cooking. To calculate the cooking time, remove the giblets, and reserve. Weigh the turkey. The turkey will need about 20 minutes per 450g plus an extra 25 minutes at the end of calculated time
.
2. Prepare stuffing mixes.
3.  Preheat the oven to 220°C.  Rinse the turkey inside and out and pat thoroughly wipe dry with absorbent kitchen paper. Lift into a roasting tin.
4. Stuff the main cavity and neck end of the turkey with stuffing, pushing the stuffing up between the flesh and the breast (not too tightly, as it will expand during cooking).
5. Pulling the skin back over and tucking underneath the bird to keep the stuffing in. Shape any remaining stuffing into balls. Wrap each one in half a bacon rasher and secure with a cocktail stick. Sew up the neck skin or secure it with a skewer, then truss the turkey to give it a good shape.
Place the bird breast side up on a wire rack in a roasting pan and cover loosely with foil. Do not wrap tightly or the bird will steam rather than roast in the oven.
Brush with  oil and season well. Roast for calculated cooking time which in this case would be 3 hours and 5 minutes.
6. Place the pan in the oven. After 20 minutes, reduce the heat to 180°C and continue cooking for a further 2 ½ hours, basting the turkey with the fat and pan juices every 20 to 25 minutes.
7. Remove the foil, baste the turkey again and increase the oven temperature to 200°C. Continue cooking the bird to brown the skin for a further 30 minutes, or until the meat is well cooked.To check the bird in cooked, insert a skewer into the thickest part of the turkey thigh. The juices that run out should be clear and show no traces of pink. If are still a bit pink, continue cooking. Leave to stand for 20 minutes before carving.
Any turkey tales from you?
How do you cook your turkey and what flavours do you put in your stuffing?