The art of offering delectable cuisine and the finest of wine on a menu has become a passion for many a chef, inspired by an almost endless choice of ingredients able to be sourced the whole world over.
 But nothing beats freshness for many a palette, and it seems the Peppers brand of retreats, resorts and hotels throughout Australia and New Zealand have adopted this philosophy wholeheartedly.
With all Peppers properties harbouring talented chefs passionate about merging the freshest of local produce into a menu that is memorable for each and every dish, guests can be assured of a culinary experience along with their leisure pursuits for each and every stay.
More and more guests are becoming loyal regulars, appreciating the attention to details and the assurances that their getaway with Peppers will be a complete package of leisure, coupled with wining and dining pleasure.
Whether it be on the golden sandy coastlines on the doorstep of pristine beaches, the picturesque mountains with incredible panoramic views, tranquil lakes or the fertile regions of rolling landscapes and historic country estate gardens, there are plenty of truly beautiful locations in the Peppers portfolio.
When combined with divine wines from a bountiful vineyard region, the dining experience for Peppers guests reaches new heights of enjoyment in elegant and ambient surroundings, at many an award-winning restaurant on-site with a variety of fabulous facilities and stylish accommodation.
The world-famous Hunter Valley region of New South Wales is one such prime location to become immersed in the food and wine experience with Peppers, boasting two charming retreats steeped in history and brimming with country estate comforts.
Choose between superb accommodation at Peppers Convent, which is a remodelled convent surrounded by landscaped and the vineyards of Pepper Tree Winery, and Peppers Guest House just a short drive away also surrounded by picture-perfect gardens and vineyard in the heart of wine country, along with facilities including an on-site endota spa, indoor pool and spa, sauna and tennis court.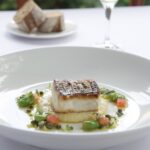 Peppers Guest House is also home to the exceptional Restaurant Sanctuary that has carried a long-standing reputation for exquisite food and wine, nestled amongst the vines to embody the spirit of the Hunter – voted Best Restaurant in a Hotel in the 2010 Restaurant and Catering Awards for Excellence.
As one of Australia's best wine and food-producing regions, the Hunter Valley offers an abundance of choice for Restaurant Sanctuary's Executive Chef Michael Bolam to not only satiate foodie fans, but continually reach the standard of excellence he strives for when combined with an extensive variety for wine connoisseurs.
Taking much pride in merging the magic of fine food and divine wine for an indulgent experience, Chef Bolam is an ideal ambassador to deliver tantalising cuisine from this magical region, having grown up in the Hunter Valley, travelled the world as a leading chef and returned to his home bringing his international talents with him.
Commencing his career at Peppers under the careful eye of highly regarded Jamie Hartcher, Michael Bolam then toured the world to hone his skills, travelling to France and to London, where he worked at such establishments as Brett Graham's legendary 2 Star Michelin Restaurant, The Ledbury in London, before returning to Peppers and his favourite part of Australia.
"It is so fantastic and exciting for me to come home to work in the Hunter," says Chef Bolam.
"Having grown up here, I already know that the local produce is so rich in both the quality and diversity available – and anyone who is food savvy will sing the praises of freshness, flavour and quality of produce straight from the farms… there's nothing like it."