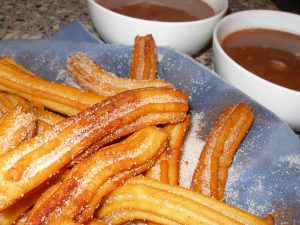 Virgil Evetts
I am so in love with Churros right now. As promised in my posting on cannolli, I set about making them on the weekend, and I gotta say- OH MY GOD.
I used the recipe from the excellent Movida cook book. Movida is a truly outstanding tapas bar/Spanish restaurant in Melbourne (with two branches), run by Frank Camorra, the God father of Spanish cooking down-under. And churros , for the sake of those of you who have thus far been denied their very decadent delights, are an extruded Spanish doughnut. They are little fingers (rather than rings or balls) with characteristically fluted edges, which help to catch the thick, almost malevolently rich hot chocolate with which they are traditionally served.
Unlike many doughnuts they are not made with a yeast dough. Churros dough consists of nothing more than flour, baking powder, boiling water and oil. Why boiling water, I do not know but I'm not about to question it.
Traditionally the dough is squeezed through a heavy duty syringe-like device called a churrera. After doing this job with a piping bag I can see why- the dough is very, very stiff. That part wasn't fun and next time I'll definitely be using a cookie press or something similar. Once extruded the little fingers of dough are deep fried at about 170 C until perfectly golden, then drained and dusted with cinnamon sugar.
My home-made churros where pretty damn close to the crispy, sugary perfection I first tried at Movida several years ago. Obviously I can't publish the actual recipe here, but the net is clogged with churros recipes if you bother to look, and Movida is a fine addition to any home library.
To make the hot chocolate I whisked together 3/4 cup of hot milk with ½ cup of cream, 1 teaspoon of pure vanilla essence, about 200 grams of dark chocolate and a shot of Cointreau.
This is powerful stuff and a little goes a long way. Theoretically.
I went to bed very happy that night.