Jemima was 5 on Monday and as usual we had a rather large party for her friends, siblings and parents on the Sunday afternoon.  For the first few birthday parties I served loads of sweets and treats and shrugged that birthdays only come once a year.  However, little did I realise that Miss Sociable could end up with 5 invitations in the same week which has the potential for an overload in "treat" food as she had for the week prior to her own celebration.
Having also just interviewed Michael Pollan the day before the whole real food issue was sitting in my head.  So, the challenge I threw myself was how to have a fun party but not do an excess of "rubbish".
and to get kids to actually eat some reasonable food.
Lunch was served on picnic rugs on the lawn and was all savoury.  A near table was set up with mugs of water.
homemade sausage rolls
garlic bread
homemade pizza
cherrios (hmm)
chicken pieces
pineapple and mandarins
After kids had time for second and thirds we lit the candles and did the cake.  This I had made using the gingerbread template from www.chefstoolbox.co.nz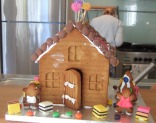 Cake was followed by hokey pokey icecream in cones and then a pinata which had two wrapped chocolates each.
So while there was definitely an element of the unhealthy I was really pleased with the balance.