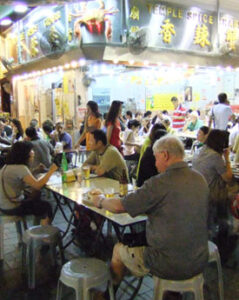 While many of us are complaining about the heat and humidity that is currently wafting over New Zealand I for one am as happy as can be and as I sit in my overly hot study I reminisce on a recent shopping and food extravaganza in Hong Kong.
Recounting airport and flight details should be left to comedies such as "The Castle" but in spite of this I do have to say that my business class ticket on Cathay Pacific has spoiled me for future travel.  As I positioned myself in a pod, taking my first sip of champagne and trying to look nonchalant, I think my rapid texting and hushed shrieks down my phone (still at terminal) gave me away as a first timer.  If all air travel could be akin to 5 star hotel service as this was then jet lag would be a thing of the past!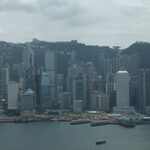 The first thing that really hits you about HK is the dizzying vertical nature of the city – it all goes up, and up, and up.
With 7 million people to fit into 1095 sq. km it needs the sky scrapers but it still feels funny to think that an apartment building can house as many people as a rural NZ town.  My room in the stylish and comfortable Harbour Grand is near the top and the views across the harbour to Kowloon magnificent.
It comes as no surprise then that Hong Kong is incredibly compact and you can make your way from district (suburb) to district in a matter of minutes.
Aside from rugby (think Hong Kong 7's) and horse racing (every week) the main attraction of visitors to Hong Kong is the shopping and the food.  The climate is great as well!
Hong Kong is a shoppers paradise, at the very high end are the European designer stores that are predominantly in malls such as Pacific Place, Landmark and Times Square.   Within the malls you will also find stores such as Zara that are more affordable but be prepared for a walk, the malls are enormous and the high end stores plentiful.  Causeway Bay is a great shopping destination  and one where I spent most of my shopping time.  It is has department stores such as Sogo and a variety of malls,  or you can wander the streets outside and take your pick from a huge variety of stores.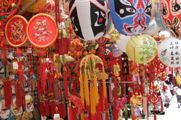 There are also loads of markets with products as cheap as chips.  The Ladies Markets and Temple Street market are both hugely popular and are packed with stalls of fake jewellery, clothes, leather goods and electronics.  Tiffany look alikes make great gifts for girls and the converse sneakers sell for a bargain and have passed the critical examination of our 15 year old style junkie.  
On advice from an electronic expert I left the Nintendo games where they were, despite the price temptation.
Stanley  market is worth visiting as well, it is slightly out of the main city and in a picturesque bay, it is  renowned for cotton bed linen, cashmere and silk but be sure to think of your luggage weight before buying a houseload of fine cotton sheets.  My bag was already loaded with things for the kids so despite the temptation the bed lined had to stay.
 Street corners are littered with people inviting you to view handbags out of car boots or to get clothes made for a song.  I politely declined and then just ignored, not wanting to jeopardise my personal safety or wallet.   There are also out of the way places where you knock 3 times on doors etc… to buy what is professed to be quality copy handbags but do remember that these are not always cheap and what looks good quality in the first instance may not always be so.
If you have time and/or the inclination, you can quickly get a visa and take a day shopping trip by train to Shenzhen in mainland China. While I didn't do this I do know friends who have found great bargains, mainly in clothing but also in textiles.
 The underground train or MTR as it is called is by far the best way to get around.  The first few days I took taxis out of fear of getting lost and confused but after an exorbitant fare due to a traffic jam I braved the MTR and wondered why it had taken me so long to do so.   Trains come every few minutes and generally take you very close to where you want to go.  You can purchase a pass for a day or an amount of trips which saves hunting for coins each time.
For a gentle look around the city then do take the ding ding tram which gives you a great tour and saves your feet for more important tasks.
Another must do is to visit the top of Victoria Peak where weather permitting you will get a birds eye view of Hong Kong.
 As a food lover it is really worth trawling the cookware streets near the Temple Street markets – you will find many bargains and dishes that with a wrap of newspaper will easily nestle amongst clothes for the journey home.  In the evening the dai pai dongs (open air cafes)  all around Temple St sell delicious local food.  There are probably those that are better than others but as a general rule I tend to head to those that look popular with locals.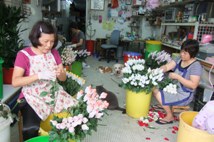 The Jade Market is an easy stroll as are the bird, flower and goldfish markets , these markets are all worth a visit simply for their novelty factor.  The men "walking" their caged birds were intriguing, the flower market typically colourful and fragrant and the goldfish market startling in the sheer volume of bagged goldfish hanging in rows waiting for purchase.
Eating out in Hong Kong is an absolute delight with some of the best Chinese food imaginable. Yum Cha of course is an essential experience and there are restaurants offering this everywhere.  At the top of the list in quality is Tim Ho Wan Dim Sum, a surprisingly affordable Michelin star restaurant in the Mong kok district.  As with all popular and large restaurants a wait will be inevitable so arrive with patience and before you are ready to chew off your arm in hunger.  The wait is well worth the experience and each of the dishes while common in their essence were outstanding in flavour and texture.  The steamed pork buns were the best I have ever eaten and unfortunately (or fortunately for them) our language barriers prevented me from coming away understanding the necessary tips to create them at home.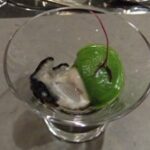 At the high end of the market and an unforgettable dining experience is the sleek, stylish,  BO innovation in the Wanchai district.  Bo Innovation with its Michelin star has made it onto the world restaurant radar and is is the brain child of  self taught chef Alvin Leung.  While Leung – or the "demon chef" as he is called, wasn't cooking the night we were there his presence is still  felt by an enormous image on the doorway.   Leung cooks "x-treme Chinese food" in his words but in ours we are probably more familiar with the term molecular gastronomy.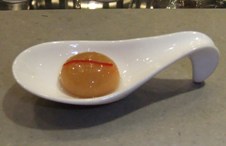 There are two menus on offer – the chefs table or the tasting menu with an extensive wine list.   We chose the chefs table and were presented with at least 8 tasting plates  with wines to match. To say my senses were overwhelmed is a complete understatement as highly structured dishes were presented carrying ingredients one at a time from all around the world including yaks milk cheese from Tibet, caviar, Spanish Jamon and Australian scallops.  A freshly shucked oyster with silky smooth spring onion, ginger and lime puree was pure bliss and the soup dumpling  Xiaolongbao (see left) looked nothing like it should but "exploded" in the mouth with all of the expected flavours.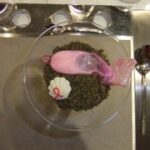 The price tag is not for the faint hearted and nor is the optional dish of "sex on the beach" where a faux pink condom filled with cream is displayed on a gritty base…  all edible if you dare. The Sex on the beach dish, while somewhat confronting and to my mind completely inedible, raises money for Aids concern in Hong Kong.
 Barbecue meat is a Chinese favourite and in Hong Kong you will find numbers of restaurants displaying the trademark glossy ducks, pork chickens and geese in their windows.   For the very best in papery thin crisp skin meat with moist succulent flesh I suggest you Michelin star Yung Kee in Central.
  Brochures and books on dining are easily available and even without them you are sure to find wonderful taste sensations wherever you go.
If shopping around the Hollywood Rd (Central) area be sure to fit in lunch at Song restaurant.  This small understated restaurant that doesn't need to rely on street frontage for business serves light and delicious Vietnamese fare with the best lime and sodas ever.  Close to Hollywood Rd are little streets with bars and great produce stalls that are well worth a look.  A bag of mangosteen give cool sweet relief in the heat.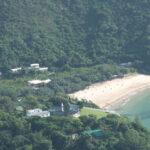 One of the wonderful things about HK is the short time it takes to get out of the city and into bush.   Hiking is a popular HK pastime and the tracks are well documented, marked and maintained. We walked the Dragons Back ridge which is a comfortable walk through quiet bush with only butterflies and the occasional large spider for company.  The views out to the South China Sea are breath taking and the swim at Big Wave Bay at the end rewarding – it is already 32°C at 9am.
After our walk and a refresh, Tess takes me to FOOT, one of the many feet reflexology clinics, and despite my blisters (new shoes and shopping) and aches I almost doze off in the comfort of lazy boy chairs and air conditioning while having my feet soaked and rubbed.
 In fact an hour of foot therapy is just enough to inspire some more shopping!
 Shopping Guide
Causeway Bay – loads of great shops in one area
H&M – great for trendy clothes at good prices
MAC makeup – prices are well below NZ
SOGO department store (Causeway Bay) 
Zara for kids and adults – quality can be variable
Milan market – second hand designer handbags (don't expect things to be cheap, they are designer)
Ladies Market
Temple St Market
Stanly Market
Restaurant Guide
Song Vietnamese
Yellow Door
BO innovation
Tim Ho Wan Dim Sum
Kau Kee (noodles)
Mak Ngan Kee (noodles)
Hong Kong has a wonderful evening light show that is best seen from the Harbour – check out Aqua Luna cruises 
 Accomodation – Harbour Grand, North Point
Getting there – Cathay Pacific flies direct from Auckland to Hong Kong.