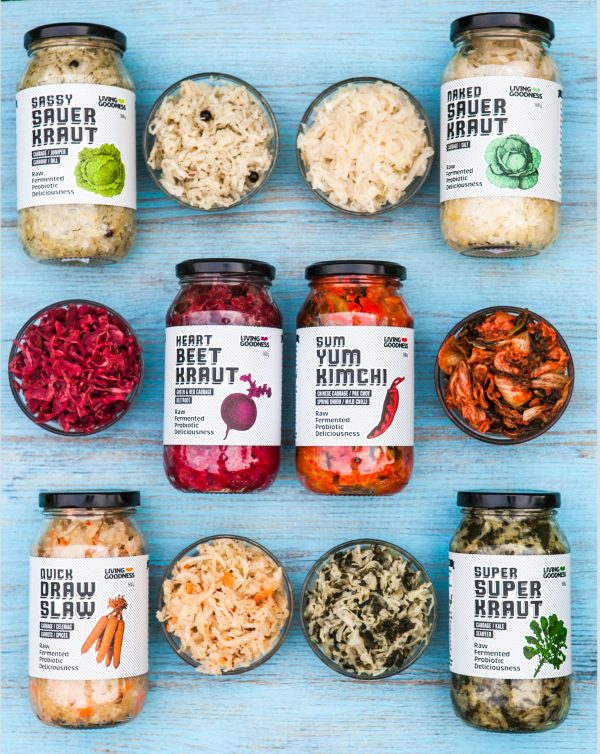 Summertime is a great time to catch up with friends and family, the days are warm and long and it is ideal for entertaining.
Over this time I try and keep the fridge, pantry and freezer stocked with things that I know can easily be put together to form a meal that is a bit more interesting than the standard family fare.
Along with cheeses and dips, a jar of kimchi and sauerkraut can literally bring life to many dishes, adding a great zing of flavour, texture and also visually adding interest.
Here are some of our favourite ways over summer with sauerkraut and kimchi.

This feature is brought to you by Living Goodness, New Zealand-based creators of fermented, raw sauerkraut and kimchi.
At Living Goodness, we pride ourselves on making premium quality and tasty fermented
foods.
1. Finger food e.g canapés can be easily put together with a few essential ingredients on hand.  Brush sliced baguette with olive oil and then grill to make bruschetta.  Top this with your favourite cured meats e.g. prosciutto or salami or smoked salmon and a dollop of sauerkraut.

2. Hot Smoked Salmon Canapes on blinis are also made even tastier with a sprinkle of sauerkraut.  We like Living Goodness Hearbeet for this one, beetroot and salmon are a great combination. The sour flavour of the kraut balances the richness of the salmon beautifully.
3. Pig in Blankets are always a party favourite.  Try wrapping (sausage roll style) chunks of cooked German style sausage such as bratwurst in butter puff pastry with some wholegrain mustard and a drop of sauerkraut.  Brush the outside with egg and sprinkle with a few caraway seeds.  Bake at 200 C until puffed and golden.
4. Bite sized Pinwheel sandwiches are another canapé idea, made with thinly sliced cured deli meats, Swiss cheese, sauerkraut and a little chopped gherkin.  Secure with a toothpick if necessary.
5. Kimchi Dip is ridiculously simple and perfect for summer holidays.  Mix 250g cream cheese, sour cream or mayo with about 1/3 cup Living Goodness kimchi (more or less to taste).  Mix well or pop in the blender for a quick whizz, taste and add a dash of fish sauce if you want to.  Rip open a bag of chips or crackers and you are there!
6. Devilled eggs are great for picnics and also parties.  Scoop yolks from halved boiled eggs, mash with Kewpie mayonnaise (Japanese) and then stir through chopped kimchi.  Stuff this mixture back into the whites and arrange on a platter with a small pinch of kimchi on top of each.
7. A healthy and nutritious summer dinner is easily made by combining cooked quinoa, flaked meat/fish (or slices of tempeh), salad leaves, kimchi, sliced radish and some toasted seeds to garnish.
8. New potatoes and summer go hand in hand and with that we all love a good potato salad.  Add some flavour, colour and texture interest to your next potato salad with a couple of spoonfuls of sauerkraut mixed through. You can of course give your potato salad a pretty pink hue by using Kimchi instead.
9. Sauerkraut is actually great in so many salads, pep up your coleslaw with some sauerkraut or chopped kimchi and a simple salad of baby spinach leaves with toasted sesame seeds, sauerkraut and soy dressing is just delicious.
10. Fish tacos are popular all year round but even more so in summer when the days are hot and hopefully we have access to freshly caught fish.  With a jar of Living Goodness kimchi in the fridge your tacos will be even more flavoursome.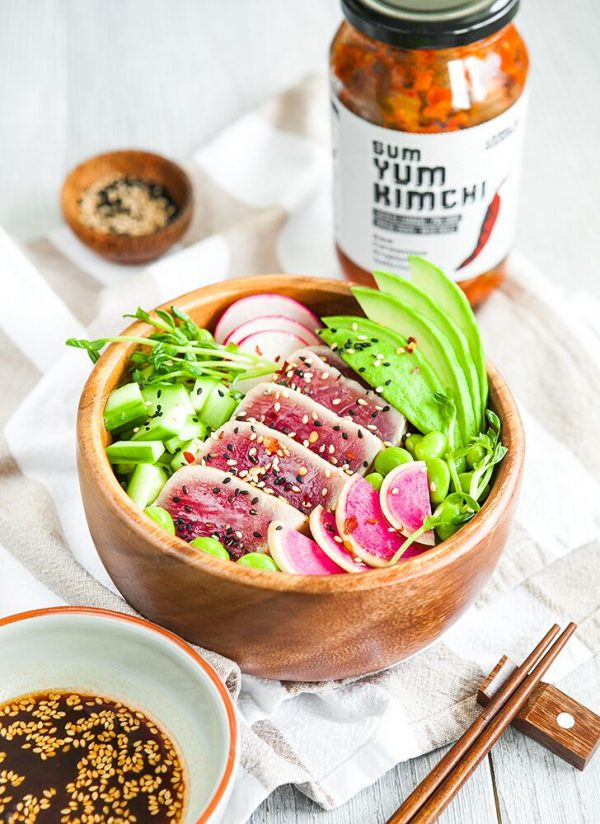 11. Kimchi juice from the jar is great for adding to a dressing such as this one with seared tuna.
12. Along with aioli, mayo, hummus etc… pop a jar or bowl of sauerkraut or kimchi out onto the table as a condiment at your next barbecue.
13. Simple Sausage Sizzles can be made extra tasty by serving beef sausages in a warm long white roll with sauerkraut, Swiss cheese and sliced gherkin.  Finish off with mayo mixed with a little chopped dill (can be dried).   A Reuben sausage!
14. A Cheese Board with farmhouse cheeses and bread is made even better with the addition of sauerkraut.  Sauerkraut is so often interchangeable with other pickles and sits so well on top of open sandwiches.
15. Grazing Platters are still in vogue this summer and adding some bowls of sauerkraut and kimchi amongst the cheese, meats, bread, crackers etc… all makes perfect sense.
16 A green smoothie is a great place for some sauerkraut.  Pop it in with everything else and taste the flavour difference.
17 Lettuce cups are a perfect way to serve Asian style slow cooked pork and kimchi. High in flavour and low in carbs.
18.  Asian style Chicken Kebabs with Kimchi is fantastic.  Marinate the meat in soy sauce, sesame oil, honey, fish sauce, chilli etc… barbecue or pan fry, serve with rice on the side and a dollop of kimchi.
19.  Lucky enough to get your hands on some scallops this summer?  Flash them through a hot pan with a dash of oil and serve with a good pinch of kimchi on each – YUM!
20. So we all know that the best way to avoid a Hangover is not to drink in the first place.  However if that has already happened then you could follow the advice of many Russians and eat some sauerkraut.  At the very least the water and salts do help to hydrate.
Living Goodness Fermented Foods are sold around New Zealand.  Check out their stockist list to find your nearest retailer.