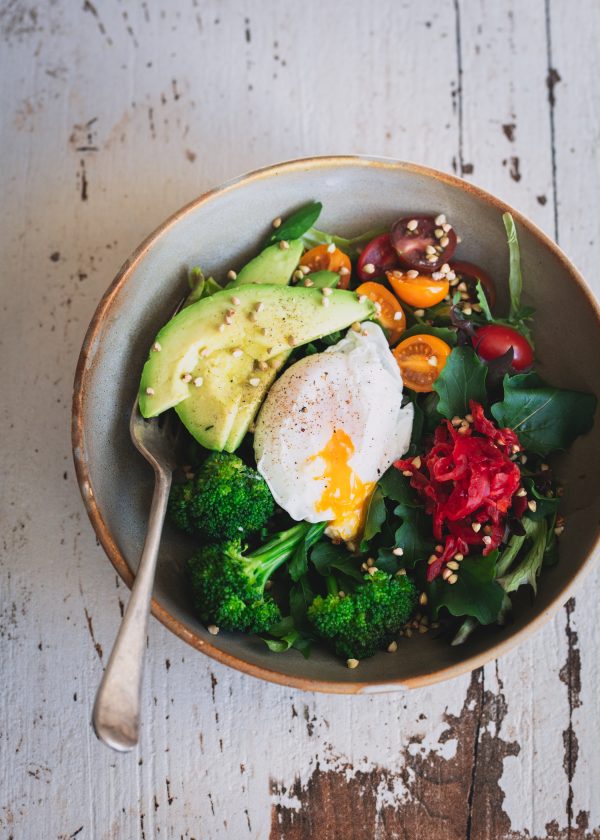 While fermented foods were once the domain of alternative lifestylers, the bug is super catchy and is now finding its way into homes (and supermarkets) everywhere.  From kimchi, kombucha, sour doughs, sauerkrauts and kefir, fermenting is the new buzz word.
What is the fuss all about and why should we be eating them?
Gut health is something that many health professionals are focussing on, complementary to the old phrase "you are what you eat".   Proponents of fermented food believe that these foods are loaded with the essential living goodies eg probiotics, that you need for good gut health.
And, aside from the health claims is that they taste delicious and in the case of sauerkraut and kimchi, they add great texture, flavour and sometimes colour to food.
The uses for sauerkraut (German) and kimchi (Korean) in the kitchen are vast, check out our list below and your will be forking your way to deliciousness and good health.

This feature is brought to you by Living Goodness, New Zealand-based creators of fermented, raw sauerkraut and kimchi.
At Living Goodness, we pride ourselves on making premium quality and tasty fermented foods.
20 Ways to use Sauerkraut and Kimchi
1. Poached, scrambled or fried, eggs any which way are enhanced with a good dollop of sauerkraut or kimchi.  We personally love it with Living Goodness Sumyum Kimchi.
2. Teriyaki Chicken on rice is a perennial favourite and a delicious combination of sweet and salty.  Give it an extra flavour lift with a sprinkle of kimchi.
3. Smashed avocado on toast is a cafe feature and it really does come down to the toast being a good quality sourdough or a heavy seed bread such as Midnight baker.
All that creaminess just cries out for the addition of something crunchy and piquant such as a spoonful of sauerkraut or kimchi.
Try this with Living Goodness Heartbeet Kraut.
4.Next time you are making/serving Sushi, instead of pickled ginger try adding a little kimchi to each roll. Mmm….
5. The Reuben sandwich is famous in New York where it is made with thin slices of corned beef or pastrami, Swiss (Emmental) cheese, sauerkraut, Russian dressing and rye bread.  It is then toasted and interestingly served with potato crisps along side.
Swiss cheese is popular in NY but we are happy with something mild and creamy such as Edam,  Rye bread isn't essential and nor is the Russian dressing.  Crisps alongside are hard to forego though.  :)
Try Sassy or Naked Sauerkraut in this.
6. .Another US favourite is the Hot Dog and a good dollop of sauerkraut can take it to a whole new level.  Try making these using a good quality frankfurter and Living goodness sauerkraut…
7. Pop a good spoonful of sauerkraut onto a hot bowl of vegetable soup (leek and potato is particularly good), gently mix and taste the flavour lift that it gives the soup.
8. Add sauerkraut to your favourite quesadilla.  We think chicken, cheese and sauerkraut quesadillas are amazing.
9. People have all sorts of interesting combinations with their peanut butter on toast so how about a little sprinkle of sauerkraut?  Try it and see just how good it is.
10. Baked potatoes with sauerkraut are sensational.  Top your baked tatie with a good dollop of sour cream and then your favourite Living Goodness sauerkraut.
Our favourite combo is Heart Beet Kraut.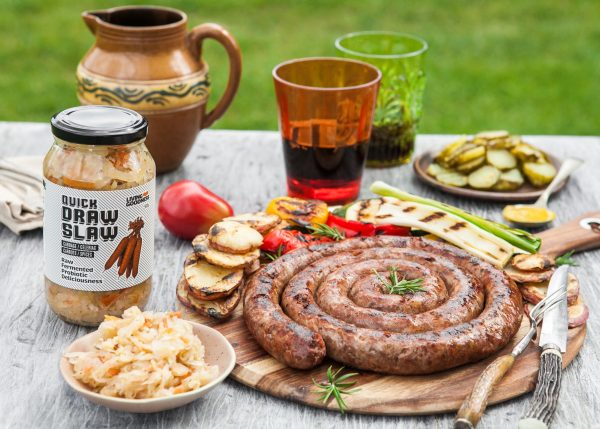 11. A Cheese Board with farmhouse cheeses and bread is made even better with the addition of sauerkraut.  Sauerkraut is so often interchangeable with other pickles and sits so well on top of open sandwiches.
12.  Smoked Salmon and Cream Cheese Bagel is wonderful with a sprinkle of sauerkraut.  As with the baked potatoes we think that Heart Beet Kraut is particularly good with this flavour combination, smoked salmon and beetroot being one of foods perfect marriages.
13. Next time you make a Superfood Salad Bowl with your favourite ingredients, add a spoonful of sauerkraut or kimchi for a great flavour zing.
14. Add some life to your Stews or Casseroles with a few spoonfuls of sauerkraut stirred through when serving.  We recommend Living Goodness Naked Sauerkraut.
15. Bangers and mash with gravy and then sauerkraut on the side is just sensational.  The better the sausages the better the dish will be.
16. Add some sauerkraut to your favourite pizza.  Cook the pizza first and then sprinkle with sauerkraut prior to serving.  The flavour, texture and temperature difference is sure to enhance.
17. Fried Rice is an ideal base for some spoonfuls of kimchi.  You can either add it during the cooking process or once the pan is off the heat. We like Living Goodness Sum Yum Kimchi with this.
18. Asian Style Noodle Soups get a great flavour lift with the addition of kimchi.  Just make your usual recipe and then stir through some kimchi when serving.
19. Hot Smoked Salmon Canapes on blinis, crostini or rye are made even tastier with a sprinkle of sauerkraut.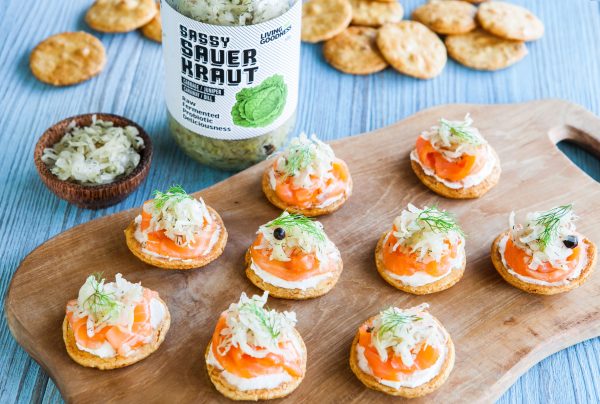 20.  A spoon and a jar!  Once you have got this far then there is no doubt that you will be a fermented foods fan.  Feeling peckish?  Take a clean spoon and grab a jar from the fridge….
Living Goodness Fermented Foods are sold around New Zealand.  Check out their stockist list to find your nearest retailer.
Don't forget to enter into the draw to Win a pack of two jars of Living Goodness sauerkraut or kimchi.
(prizes delivered to NZ addresses only, sorry no RD addresses)