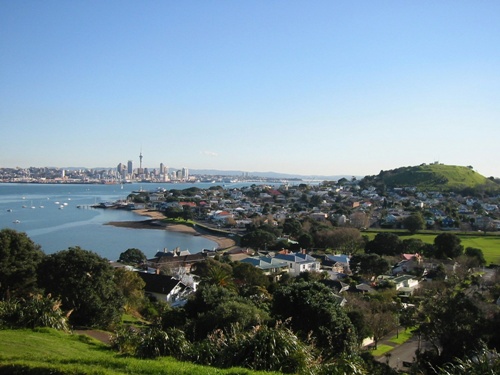 Virgil Evetts
Anyone with half a brain, or somewhere else to be, would be well advised to avoid Auckland most of the time. Hell, I do, and I live here. Oh, the people are nice enough- despite what those in the provinces say about us. Some parts of Auckland are quite pretty too. But for every nice beach there is, a lumbering mall, an industrial estate or a gridlocked motorway. It's a 'small doses' kind of place, but as with insulin to the diabetic, to dedicated followers of all things Foodie, a periodic Auckland top-up is inevitable and necessary. Generally speaking, if you want it, we've got it.
So for those of you planning a trip to the City of Sails (or "Big Little City" as we are also rather cringingly known ) sometime soon – either from out of town or out of the safe confines of the suburbs – I've compiled the following list of Auckland foodie pit stops. As with all 'best of's' It's an unapologetically subjective affair, so feel free to disagree and add your favourites.
Due to Auckland's interminable traffic and parking chaos, it would be impossible, or at least very unpleasant, to tackle all of these things in a day- especially in summer, and even more so in the build up to Christmas. Take a few days, pace yourself. Eat, be merry and drink when you get home.
Asian Supermarkets
Auckland has an ever-growing and very visible Asian population, and we are, I believe, a more interesting, lively and tasty city for it. To satisfy the dietary needs and inclinations of these new Aucklanders (although some of Auckland oldest families are Chinese), Asian supermarkets have proliferated and can be found in pretty much every part of town – from small Korean convenience stores to vast warehouse-sized Chinese establishments. My personal picks of the best are Taiping,  located on Beach road (opposite the old Railway station), and The Tofu shop (Kent Street, Newmarket). Stock up on various sauces, oils, dried mushrooms, spices, curry pastes, frozen galangal, turmeric, pandan, cassava and more. I challenge you to leave a Asian supermarket without making a purchase.
Korean Food
To me, Korean is the defining Asian cuisine of Auckland. No where else in the country is so onbiously Korean-centric. Typically quite spicy, Korean food employs lots of seafood and meat (especially beef) with the usual Asian penchant for rice. Many dishes are prepared with a distinctively flavoured fiery, fermented soy bean paste called Gochujan, which tastes a bit like an extremely hot and slightly sweet version of marmite. Quite addictive stuff. The other classic of Korean food is Kimchi- a spicy fermented cabbage condiment eaten with every meal.
Korean food is generally very cheap, and meals are served with a selection of small side dishes, including kimchi, omelette, cubes of soy and ginger marinated agar jelly, pickled seaweed,  sticky sweet soy beans and many others charming little titbits. Half the fun of Korean food is in these side dishes, which change daily, and are seemingly endless in their variety.
For a great range of cheap Korean eateries check out upper Queen Street.
Note: Korean BBQ is a specific genre of restaurant and while often very good is as rule, bloody expensive.
Markets
Farmers Markets are all fine and good and the city has few of them, but too often they lack authenticity. Auckland's real markets are sprawling, noisy and sometimes-smelly affairs, offering an incredible variety of produce often at highly competitive prices.
Avondale market: Every Sunday from early until around 1pm at the Avondale Race track and a great place to find herbs, fruit and vegetables not seen anywhere else, including drumsticks (shevga), parrot and turpentine  mangoes, white turmeric and much more. Also look out for unusual fruit trees, herbs and vegetable seedlings.
Otara Market: Held Saturday mornings in Otara town centre. THE place to sample authentic Pasifika food such as 'raw fish' (cerviche, basically), breadfruit, pani popo (gloriously messy coconut buns), palusami, chop suey and extraordinary pork buns. Otara gets a lot of bad press on account of its high-ish crime rate, but the town centre has a palpable and very warm sense of community.
Also check out Takapuna market for great produce and flowers, Grey lynn market for excellent organics and the produce grown by members of the Oooby network.
Speciality Shops
If it's expensive European cheeses, meats or other edible miscellany you're, after Auckland will not disappoint.
Sabato: Located  at 57 Normanby road (near Mt Eden prison), Sabato has been the number one destination for well-heeled Auckland foodies for many years. Whether you're after the best Ligurian olives, Spanish jamón ibérico de bellota, or luxurious Italian torrone, this is a one-stop shop.  Although prices are steep, the service here is outstanding and the quality of goods very, very, very high.
Nosh: An ever-expanding chain of high-end grocery stores offering first class produce, meats, cheeses and more.
Elsewhere, and for different reasons, check out Farro fresh, IE produce (on the Shore), Harvest Whole foods, Zarbo and Jones the Grocer.
Fine Dining
Auckland is also home to what are arguably some of the nation's best restaurants. As well-earned as their reputations are, it's only fair I warn you that pedigree is well reflected in prices. My personal favourites of the moment are The Engine Room in Northcote, O'Connell Street Bistro in the central city, The French Cafe in Newton, and (for sheer inventive fun) Merediths on Dominion road. To get a table at any of these places you will need to book well in advance.
Food Halls
Some of the best value and most authentic ethic food can be found in the city's many food courts. Try Mercury Plaza (Mercury Plaza Food Court, 38 East St, Newton), the Ponsonby Food court (corner of Ponsonby Rd and Pollen St) and the unnamed but excellent place next door to the Tofu shop (see above) in Newmarket. Avoid shopping-centre food halls. Nasty, extruded nonsense.
Coffee
For some reason Aucklands' love of good coffee is viewed with wild contempt elsewhere in the country. I can only conclude that you're all jealous. For the true Auckland coffee experience take a stroll down Ponsonby road and look for a place with painfully cool people lurking outside- there are plenty to choose from. The cooler the clientele, the better the coffee. Ghastly but true.
 So as you can see, even from my relatively meagre compilation, there is plenty to keep the intrepid foodie occupied in the traffic clogged sprawl of Auckland.  Just don't expect to find a parking space.