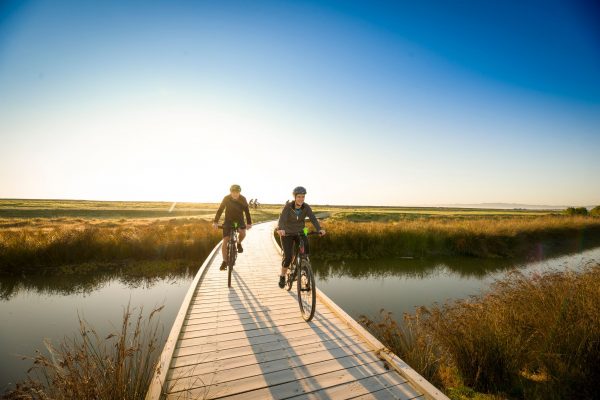 A Taste of the Bay Cycle with Helen Jackson
May 6-10 2021
Join us for a delicious 5 day/ 4 night exploration of Hawkes Bay.
Much of this will be done on e-bikes which are extremely simple to ride and make
everything just that much easier – we are on a Tour de Food not Tour de France!
When not cycling we will travel by comfort in a shuttle.
From when you arrive at Napier we will take care of your meals through until Monday
afternoon (most drinks are at your own cost).
We have selected comfortable accommodation throughout.
Price is $2327 p/p  twin share.
Single supplement available on request
Price includes;
*Accommodation
*All meals
*Some wine tasting
*Shuttle support and airport transfers
*Full back up support while on trails
*e-bike hire
Thursday May 6, Day 1 (25km cycle)
11am Meet and greet at Napier Airport
We start our tour with an easy cycle south through the Ahuriri Estuary, view the
variety of protected birdlife in this Department of Conservation Wildlife Sanctuary.
Arriving in Taradale we will visit New Zealand's oldest winery, Mission Estate, and
also Church Road winery – they are within 200m of each other.
After lunch we follow the scenic bike path along the Tutaekuri River where we can
visit the historic Otātara Maori Pa site. There will be time for a drink at the Puketapu
Hotel a classic rural pub before being picked up and take back to our
accommodation.
Platter Lunch at Church Road Winery
Dinner Milk and Honey Ahuriri
Accommodation Crown Hotel Ahuriri
Friday May 7, Day 2 (46km cycle)
A day of diversity!  From the Art Deco glamour of the Napier CBD to the moody
coastline of Marine Parade and the mouths of the regions three rivers the scene is
ever-changing. We will cycle out to Cape Kidnapers and visit Clearview Estate for a
relaxed delicious seasonal lunch.
We will then cycle the scenic Tukituki river trail past Akarangi Winery, we will stop to
taste a myriad of honey and learn to identify queen bees at the iconic Arataki Honey
(NZ's biggest manuka honey producer), before cycling onto our accommodation in
Havelock North.
Lunch Clearview
Dinner Deliciosa to confirm
Accommodation:  Harvest Lodge
Saturday May 8, Day 3  (35km cycle) 
Starting off with a delicious breakfast and coffee, we will then head to Te Mata figs
where will hopefully see both fresh figs and figs that they have converted into
wonderful treats.
At Craggy Range we mount our e-bikes and will explore both sides of the Tukituki
valley today. The ride starts along quiet country roads before dropping into the river
trail and heading out to Cape Kidnappers then follow the Tukituki Rive back on the
other side, through orchards and vineyards, to Black Barn Winery.
Lunch today is at the home of cheese expert Juliet Harbert. Juliet is Master of
Cheese, judge of the Britch Cheese awards and author of The World Cheese Book.
Expect to learn different aspects of cheese (and wine) tasting before cycling back to
our accommodation in Havelock North and a little relaxed time before dinner.
Lunch Juliet Harbert
Dinner: Alessandros – to confirm
Accommodation: Harvest Lodge
Sunday May 9th, Day 4 (35km cycle) 
In the morning the shuttle will pick us up and take us to the Hawkes Bay Farmers
Market. Here we will have a meet and greet with the market manager and then
explore the market.
We will then take our shuttle to Bridge Pa. We start our cycle on the banks of the
Ngaruroro River where we will explore the river trail before reaching the Bridge Pa
Triangle.   Enjoy the ambience of the many cellar doors offering tastings and winery
style food. There's much to enjoy as you visit the cellar doors of some of the regions
finest wineries including Sileni Estates, Oak Estate, Trinity Hill and Villa Maria. We
will then shuttle to our accommodation in Napier
Lunch: Oak Estate
Accommodation:  Masonic Boutique Hotel
Dinner TBC
Monday May 10th, Day 5: (23 Km cycle)
Breakfast today will be at the infamous local cafe Mr D.
From there we have a guided Art Deco walking tour of the Napier CBD area.
Early lunch and then a cycle of the Baview Loop.
Cycle up the coast from Napier City, through Ahuriri, passing the popular surf beach of Westshore and out to Bayview. Cycle through the lagoon farmland and Ahuriri estuary back to Ahuriri Village. As you cycle through this unique wildlife sanctuary, reflect on the fact that before the big earthquake of 1931 all this area was a vast tidal inlet encompassing thousands of hectares of wetland, marshes and mud banks.
After our cycle we will be returned back to the airport around 3.30pm to make our
way home.
Breakfast Mr Dr
Lunch TBC
For enquiries and bookings please contact me [email protected]