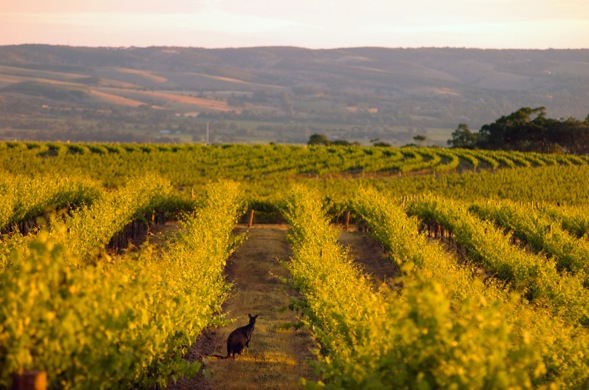 Make a day or three of it – all year-round  
Whether you choose to visit on a warm summer's day or during its crisp but seldom frosty winter, the McLaren Vale wine region, 35 kilometres south of Adelaide, offers a feast of gourmet delights. Bounded by the Gulf of St Vincentto the west and the Mount Lofty ranges to the east and south, McLaren Vale's gentle Mediterranean climate has attracted wine makers and food producers from the earliest days of European settlement.
Grape vines were first planted in the area in 1838 and the historic Hardys winery was in operation in 1850. The excellence of McLaren Vale as a wine-growing region has attracted big names over the years, but much of its charm still owes to the fact that many of its enterprises are small, family-run concerns. McLaren Vale may be internationally renowned, but it retains the warmth and feel of a country town.
The standout grape variety here is Shiraz, which produces wines with distinctive berry, spice and dark chocolate flavours and great softness and complexity on the palate. The diversity of soil types in the region also results in enchanting Cabernet Sauvignon, Chardonnay and Grenache.
Thanks to the Mediterranean climate, varieties like Tempranillo and Sangiovese, which are becoming increasingly popular in Australia, also thrive and there are now sizeable acreages of Viognier, Marsanne, Roussanne, Petit Verdot and Barbera. With over 65 cellar doors to explore, McLaren Vale is the perfect destination for self-drive or guided wine adventures.
Pick up a brochure for one of the several McLaren Vale Cheese and Wine Trails and you're away. After crossing the lush, green ribbon of theOnkaparingaRiverNational Park, which marks the region's northern boundary, you might start with a visit to Samuel's Gorge Winery, which produces wines using traditional artisanal techniques, or at Coriole Vineyards' cellar door, which is housed in an old, ironstone barn. Or enjoy panoramic views back over theOnkaparingaValleyfrom Chapel Hill Winery's cellar door, set within an old stone church.
History is treasured in McLaren Vale, right down to vines that are over 100 years old and still producing, and at d'Arenberg Wines you'll find the cellar door is set on a hilltop in a nineteenth-century homestead. At Fox Creek Wines, the centrepiece is a cosy old stone cottage set in beautiful gardens beside a lake. Penny's Hill Wines offers casual and inviting farm charm, where you can meet Rhode Island Red chickens and black-facedSuffolksheep and play pétanque on the lawns. At Wirra Wirra's cellar door, try a cheese platter while admiring the view.
It goes without saying that many of the cellar doors have excellent cafes and restaurants – and in the region's restaurants, B&B's, luxury apartments and lodges, world-class chefs offer a unique culinary interpretation of McLaren Vale's finest products.
You can't in fact travel very far in McLaren Vale without encountering mouthwatering food, and every Saturday from 8am to 12.30pm, at the Farmers Market in the town square at Willunga, you can browse and buy from over 55 stalls selling a diverse array of fresh, seasonal produce from regional farms and speciality food producers. Willunga was the first farmers market to be established inSouth Australiaand is considered one of the best.
Stock up here on handmade breads, tarts, traditional and cured meats, chocolate, cheeses and seasonal fruit and vegetables straight from the fields. Five kilometres away in McLaren Vale, the main street also offers local cheeses, almonds (from 50-year-old trees), garden spices, dips, chutneys and relishes and home-made pasta. Make sure you pick up some of the region's best olives and olive oils made by Lloyd Brothers' Wine & Olive Company, and by Primo Estate.
In case you're thinking that McLaren Vale is all about food, wine and superb boutique beers like those brewed by the McLaren Vale Beer Company, there's more. The region is only minutes away from the stunning coastline that influences so much of its lifestyle and primary production and which also offers a unique experience rich in history, artisan craftsmanship, great food and culture.
Follow the Art Trail through the region's galleries and end the day at the cliff top Star of Greece Café at Port Willunga, where you can enjoy fresh offerings from the sea while watching a breathtaking sunset over some of Australia's most beautiful, unspoilt beaches. In whichever of McLaren Vale's four seasons you choose to visit, for a day or for a luxurious longer stay, you'll find much to see and taste in the most delicious way.
Fact File
Air New Zealand offers 4-6 services per week direct from Auckland to Adelaide, with daily flights during December and January. Qantas and Pacific Blue also offer flights from New Zealand with connections through Australian gateway cities. www.airnewzealand.co.nz. McLaren Vale is a 45-minute drive south from central Adelaide.
Some McLaren Vale must-sees and – do's:Samuel's Gorge Winery, www.gorge.com.au.McLaren Vale Beer Company, www.mvbeer.com.

Lloyd Brothers' Wine & Olive Company,
Primo Estate, www.primoestate.com.au
Star of Greece Café, Port Willunga.
www.starofgreececafe.com.au