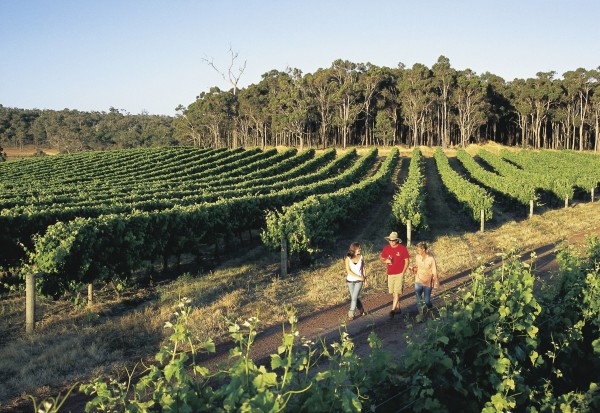 What do wine buffs, surfers and the discerning Perth weekend crowd have in common? Largely their love of their own pristine backyard, the south – west region of Western Australia, stretching through wine country and tall forests all the way to Albany, with magical things to see and do along the way.
Perth is the world's most isolated capital city, but don't let that worry you as both Perth and neighbouring Fremantle offer superb food and wine, arts and cultural activities to soak up before heading south.
It's a three-hour drive to the famous Margaret River Wine Region and you can take it easy stopping along the way. White beaches, sweeping bays, cliffs and oceans that vary from stunning blue to deep green – you'll be amazed at the scenery and sheer freshness of it all.
Busselton is in a fantastic setting on the shores of Geographe Bay – the water is a fabulous blue and more than 30 kilometres of dazzling, white sandy beaches stretch off into the distance towards Cape Naturaliste. You can snorkel, dive, fish, sail, cycle the foreshore or just sit in a cafe or bar and watch the world go by.

In Margaret River wine country there's fabulous food and local produce to complement the wine trail. The region is produces more than 15 percent of the country's premium wine and the cellar doors and restaurants echo the quality.
The Margaret River region sits on an ancient granite peninsula between Cape Naturaliste and Cape Leeuwin along a coastal ridge enjoying fine soil and a maritime climate that produces fine Cabernet Sauvignon, powerful Shiraz and intense Chardonnay among its different varietals.
Labels such as Cape Mentelle, Vasse Felix, Cullen, Fermoy Estate, Xanadu, Howard Park and Madfish are just a handful of examples of the wine labels of the area. Madfish is part of Howard Park a family owned company with a cellar door in Margaret River and also at Denmark in the Great Southern wine region around the coastline near Albany.
Great Southern is a lesser known but much larger region, stretching 100 kilometres by 150 kilometres and with five sub-regions, Denmark, Albany, Mount Barker, Frankland River and Porongurups, each with its own variation in climate, making this a fascinating wine region to tour.
Howard Park has grown into Western Australia's largest family-owned wine company under the guiding hands of Jeff and Amy Burch their multi-award winning Howard Park Riesling and Cabernet Sauvignon testament to the diverse growing conditions of the area.
"This is just such a special part of the world," says Amy. "We spend time in France with our business and I love it but oh, the traffic in those narrow streets, even in the villages. I come here and drive to Margaret River and we have the whole gourmet experience but without the traffic lights and that is very precious indeed."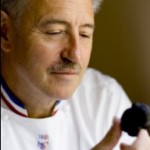 South east of Margaret River, Pemberton continues the foodie theme with specialities such as black truffles grown at Manjimup. Visit the Wine & Truffle Co and join a 'truffle hunt' to locate the wonderful black truffles beginning in April each year.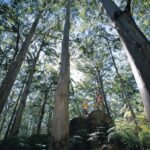 Alongside vineyards and pastures, Pemberton is surrounded by spectacular karri forests of the Gloucester National Park. The Gloucester Tree is WA's most famous karri at 61 metres tall and you can visit cafes and vineyards and bushwalk along the Bibbulmun Track through the forest. If you don't want to walk you can also see the forest by tram or steam train.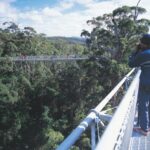 Further south, Denmark on the Denmark River has turquoise ocean, spectacular beaches, whale watching, cellar doors and enticing berry farms and toffee and cheese factories. The area is also known for wildflowers and walks – the Tree Top Walk in the Valley of the Giants is a walk through the canopy of a forest of gigantic tingle trees nearly 40 metres up in the air in the Walpole-Nornalup National Park. The buttressed red tingles can reach 75 metres in height and 26 metres at the base, the largest of any eucalypt.
Written by Alison Plummer on behalf of Tourism Australia.