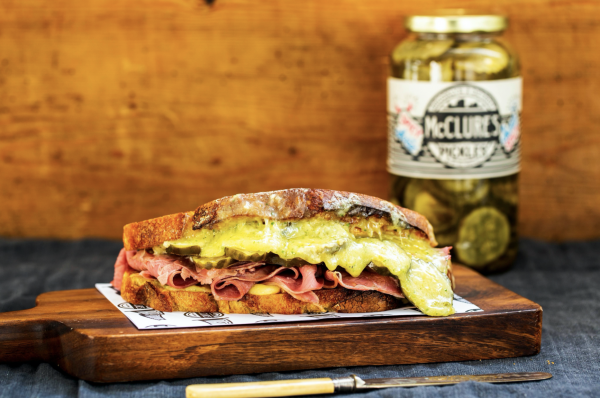 Winter is about to get a whole lot tastier with the launch of the third annual Great NZ Toastie Takeover.
Celebrating the delicious Kiwi staple that is the not-so-humble toasted sandwich, eateries right around the country will once again be putting their unique spin on the iconic snack.
The competition element of the Great NZ Toastie Takeover returns this year, too, with 83 establishments vying for the title of New Zealand's top toasted sandwich in 2020 – a  66% increase on the number of entries last year.
Cook & Nelson and McClure's Pickles will be scouring the country for the best toasted sandwiches from Monday, June 29 and they're encouraging the public to do the same at the participating eateries.
Eateries include restaurants, bars, cafes, supermarket, garden and department store cafes, café-stores, breweries and even a hole in the wall servery – ensuring many toastie lovers have the chance to warm up this winter with a delicious toastie creation.
And the competition is bound to be tough as the luminaries of the toastie world look to take the mantle from the Hokitika Sandwich Company, who wowed the judges in 2019 with their winning combination of corned beef, McClure's Sweet & Spicy Pickles, harvati and cream cheeses, red onion and their own in-house sauce.
This year's entries include The Squishy Combo – a cross between a toastie and burger from Burger Burger Newmarket – The Mount McClure's Mauler from The General in Mt Maunganui with its 12-hour braised pulled pork and apple, chilli and mint slaw, and a new take on the famous South Island cheese roll at Christchurch's Earl Bistro. There's even a vegan toastie on offer at Wellington's Mockingbird, with vegan mascarpone,  Angel Food cheddar, miso butter, caramelised onion, facon and McClure's Sweet & Spicy pickles.
Judging will take place over July with the 12 finalists (made up of two entries from each of the six competition regions) announced on Monday, August 3. The competition's toast-master-royale will then visit the finalists in August to sample their creations and liaise with McClure's Pickles co-founder, Joe McClure, to determine New Zealand's best toastie of 2020.
McClure, who visited New Zealand from the US to judge the competition in 2019, says he's disappointed to not be able to sample the competition entries this year.
"I'm gutted to miss my annual Kiwi road trip," he says. "I long for the beautiful sights and sounds of New Zealand, not to mention the world class toasties!"
"Much like everyone else, we've had to find a way to do things online in 2020, but I can't wait to see what everyone has been creating and get detailed tasting feedback from my toast-master-royale."
Head judge Kerry Tyack and his group of 30 toastie aficionados will be ensuring each entry meets the following competition guidelines: Toasties must be sandwiched between two slices of bread and be able to be eaten by hand if necessary. The toasties must also contain cheese, pickles from McClure's delicious range, with all other sandwich elements left up to the participating cafes' imagination.
Each toastie will be scored on a set criteria, including presentation, effectiveness of preparation technique, eatability, taste, innovation and originality.
All finalists will receive a case of McClure's pickles and dine-in vouchers to give away to their customers. The supreme winner will be announced on Wednesday, September 3, and will walk away with a year's worth of pickles, more dine-in vouchers, a toastie trophy – and most importantly, bragging rights to the best toasted sandwich in the country.
And the toastie love is being spread even further this year with the public able to enter their own home creations in a separate category. Simply create your toastie, tag it on the social media of your choice with #toastietakeover to enter the draw to win a year's supply of McClure's pickles. It's time to put all that bread-making and toastie-eating practice from lockdown to the test!
For more information about the Great New Zealand Toastie Takeover competitions, check out www.toastietakeover.com. The participating eateries are listed by region below.
And for more about McClure's Pickles, see mcclures.com.
#toastietakeover @cookandnelson; @mcclurespickles.
uckland /Northland
Akarana Eatery (Orakei)
Bread & Butter Café (Grey Lynn)
Burger Boy (Central)
Burger Burger (Newmarket)
Butcher's Shop Café (Patamahoe)
Cheese on Toast (Mt Eden)
Federal Delicatessen (Central)
Fish Kitchen (Devonport)
Good Day (Orakei)
Good Dog Bad Dog (Central)
Good George North Wharf (Central)
Hallertau Brewery (Riverhead)
Hello Pickle (Whangarei)
Hero Sandwich House (Eden Terrace)
Jemima's Kitchen (Oratia)
Kohi Store (Kohimarama)
Longroom (Ponsonby)
New World Eastridge (Kohimarama)
New World Victoria Park Café (College Hill)
Palm Beach Store (Waiheke Island)
Pickle Pickle (Mission Bay)
Pilkingtons (Central)
The Humble Grocer (Central)
Vondel (Devonport)
Winner Winner (Pukekohe)
Wren Kitchen (Mt Wellington)
Wynyard Pavillion (Central)
Hamilton/ Waikato/ Coromandel/ BOP/ Rotorua
Capers Café + Store (Rotorua)
Espy (Whitianga)
Flock Kitchen & Bar (Tairua)
Harbour House Cafe (Whitianga)
Hayes Common (Hamilton)
Keystone  (Hamilton)
Mr. Pickles Bar & Eatery (Hamilton)
No.8 (Mount Maunganui)
RedKitchen (Te Awamutu)
The General (Mount Maunganui)
The Lookout (Hamilton)
The Verandah (Hamilton)
Thyme Square (Hamilton)
Winner Winner – Hamilton East (Waikato)
Central North Island
Bay Espresso Karamu Road (Hastings)
Carr's Kitchen (Hastings)
Federal Store (New Plymouth)
High St Bistro (Dannevirke) OPENS 6th JULY
Joe's Garage (New Plymouth)
Parnells Cafe (Whanganui)
Replete Café & Store (Taupo)
Roosters Brewhouse (Hastings)
The Rose Irish Pub (Napier)
Wellington Region
10 O'Clock Cookie Bakery Café (Masterton)
Bebemos (Newtown)
Bin 44 Restaurant & Bar (Wellington)
Fix & Fogg Eva Street Window (Wellington)
Goods Manufactory and Café (Petone)
Leeds Street Bakery (Wellington)
Mockingbird (Wellington)
On Trays Scheckter's Deli (Wellington)
Park Kitchen (Wellington)
The Butcher & Brewer (Petone)
The Crooked Elm (Lower Hutt)
The Offering (Greytown)
The Residence (Wellington)
Winner Winner (Wellington)
Upper South Island
Arden Bar & Kitchen Porta Via (Nelson)
Beach House (Kaikoura)
Bottle & Stone – OPENING 8 JULY (Christchurch)
City Social (Christchurch)
Civil & Naval (Lyttleton)
Earl Bistro (Christchurch)
Grain Coffee and Eatery (Christchurch)
Joe's Garage – Riccarton (Christchurch)
Kin at Ballantynes (Christchurch)
Sign of the Kiwi (Governor's Bay)
Terra Viva Cafe (Burnside, Christchurch)
Terrace Tavern (Christchurch)
The Tearooms at Ballantynes (Christchurch)
Welles St (Christchurch)
Rest of South Island
Forage Café & Information Centre (Cromwell)
Hungry Hobos (Dunedin)
Love Chicken (Queenstown)
Nichols Cafe (Cromwell)
The Kitchen (Cromwell)