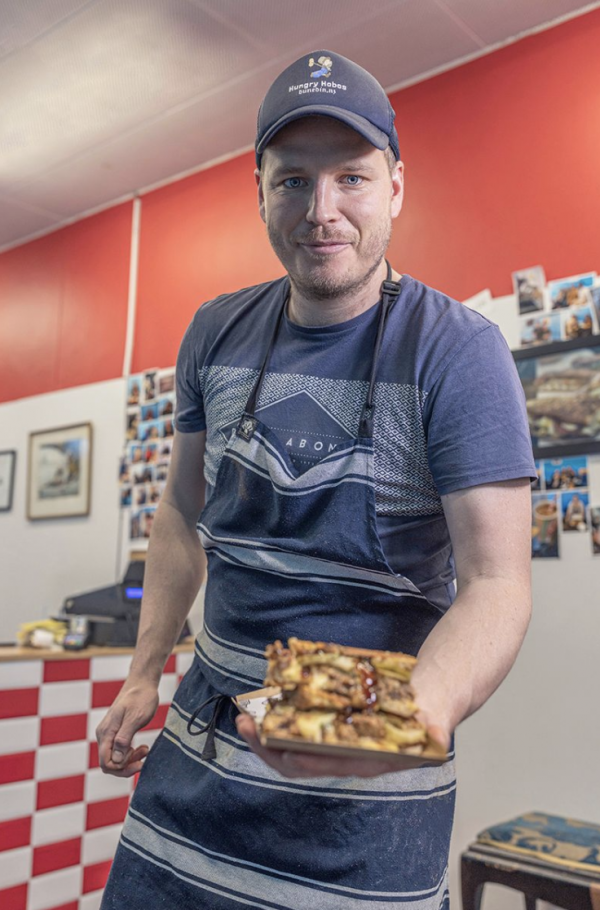 Good old-fashioned comfort food has reigned supreme in this year's Great New Zealand Toastie Takeover competition with a small Dunedin eatery and its supremely delicious meatloaf creation taking top honours.
Romeo Dowling-Mitchell of Hungry Hobos can now officially lay claim to the best toasted sandwich in the land with his "Bat out of Hell" entry, featuring homemade meatloaf (made to Grandma's recipe), creamy mashed potato, gravy, aged cheddar and McClure's Sweet & Spicy Pickles slathered between herb-buttered ciabatta.
The win will come as no surprise to Dunedin locals. Romeo has been doling out mouth-watering, American-style toasted sandwiches and soups from his George Street eatery for the past two and a half years after a career that spanned cooking for Team New Zealand at the America's Cup in San Francisco and cheffing on super yachts in Spain.
His "Bat out of Hell" sandwich beat 80 other entries from around the country in the annual Great New Zealand Toastie Takeover, impressing judges with its combination of simple ingredients served with confidence.
Head Judge Kerry Tyack says the "Bat out of Hell" combination is at once wholly expected and a total surprise.
"After all, who would put meatloaf, mash and gravy in a toastie? Answer: Romeo, and in that it fits!" Kerry says.
"The assessment team felt this ate like a toastie that hasn't tried to be anything other than wholly unapologetically itself – simple, unctuous, familiar, comforting and delicious every bite of the way.
"The judge's notes said the eating of this sandwich was joyous. There's a familiarity that's bordering on nostalgic in the savoury perfectly seasoned meatloaf with light buttery mash and gravy, melted cheese and McClure's pickles. It's real comfort food! It's also bold and brilliantly executed with every element prepared perfectly."
Romeo says his toasted sandwich entry was never going to be about pretentious ingredients.
"I wanted to do something that was a bit different but still inside the realms of what you'd get at home. Something you'd throw together ambitiously with the leftovers from the night before. One of my strengths as a chef has always been seasoning and balancing flavours and textures really well so I was confident I could give the sandwich the x-factor that way, rather than going too adventurous.
"I am stoked to bring the trophy to Dunedin and do my part for the thriving food scene emerging here. Can't wait to show off my trophy to all my regulars who have been so supportive."
Hungry Hobos now has a bespoke Toastie Takeover trophy to proudly display, as well as a year's supply of McClure's pickles and vouchers to give away via social media. The trophy, which resembles a toasted sandwich, was designed by Rikki Berger in Christchurch and is made of Pohutukawa (the bread), Puri Puri (pickles) and Ash (cheese).
Co-owner and founder of McClure's Pickles, Joe McClure, says the overall standard of sandwiches sampled in this year's Toastie Takeover was exceptional and while he wasn't able to judge in person this year due to border restrictions, he was involved in the panel moderator process.
"Determining an overall winner was a real challenge with so many very different toasties vying for the title," he says.
"We had peanut butter and pickle toasties (Fix & Fogg, Wellington), smashed burger toasties (Jemima's Kitchen and Cheese on Toast, Auckland) and crispy fried chicken with mac 'n' cheese (Love Chicken, Queenstown) amongst the dozen finalists.
"We'd like to congratulate all of them for making this such a great competition. It's clear the art of creating the perfect toastie is very much alive. We can't wait to see what everyone comes up with next year!"
The Great New Zealand Toastie Takeover competition criteria required sandwiches to be toasted between two slices of bread and able to be eaten by hand. The toasties also needed to contain cheese and McClure's pickles, with all the other ingredients entirely up to the entrant's imagination.
12 finalists were selected from the 80 entrants and were all judged on the same criteria, including presentation, effectiveness of preparation technique, eatability, taste, innovation and originality. This is the second year the South Island has taken the title with Joseph Walker and the Hokitika Sandwich Company taking top honours in 2019.