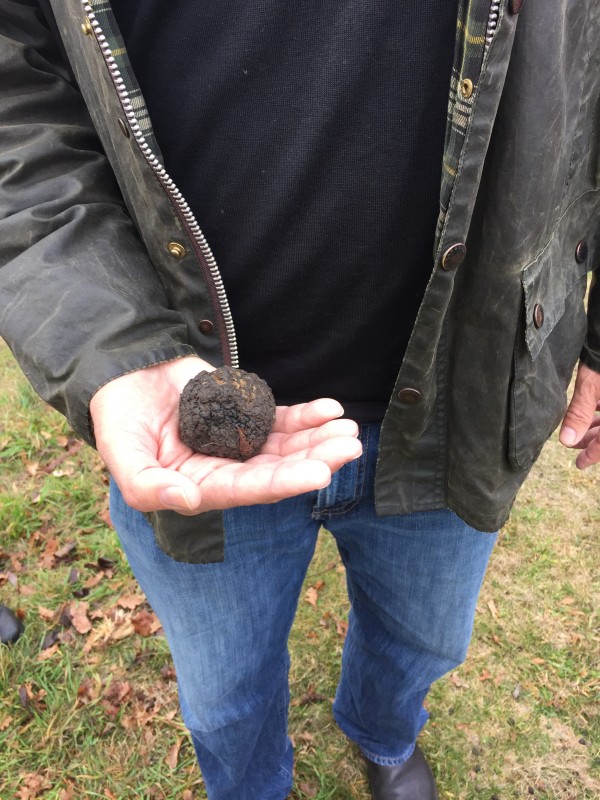 Brillat-Savarin called truffles "the diamond of the kitchen" and not too many years ago the chance for New Zealanders to taste fresh truffle was essentially reserved for international travellers with fat wallets.
While the fat wallet is still needed if you plan to bathe yourself in truffles, the fact is that NZ now boasts at least 30 of its own truffière (truffle growing properties) and it is getting easier by the day to buy some for yourself.
It is at Limestone Hills (owned by Gareth and Camille Renowden) just outside of Waipara, that I experience my first truffle hunt, as a component of the inaugural Canterbury truffle festival.
As truffles are on the whole buried underground (some pop above the surface), the easiest way to find them is to sniff them out and both pigs and dogs can be trained to do this.  Most find it more suitable to have a dog as a companion, they are easier to restrain when they find a truffle and less inclined to eat the lot (although they may try to).
Rosie the beagle is the truffle hunter at Limestone Hills, she is known for her marvellous nose and if there is a truffle to be found then Rosie will get it.
From sniff to table though is quite a precarious operation, you need to be careful to avoid undue soil disturbance and once unearthed then an unripe truffle is only useful as compost – devastating when they can fetch up to $3000 kg.  Likewise an over ripe truffle has little value.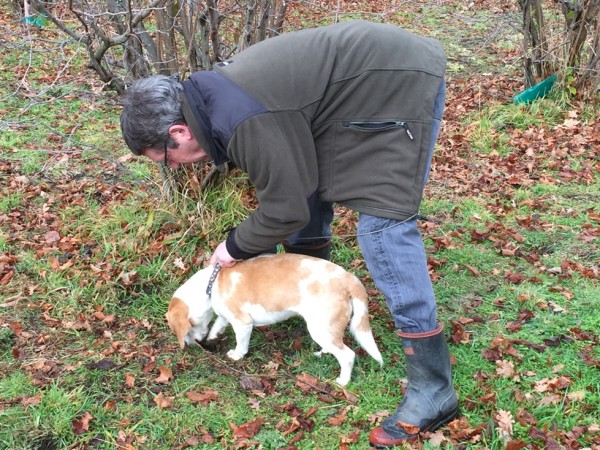 Truffles are essentially a type of mushroom that grows beneath the surface of the ground near specific trees.  In New Zealand our truffles come from trees that have been artificially inoculated with truffles and with an estimated five year wait that holds no guarantees, it is very much a labour of love.
Limestone Hills truffles are in a mixture of oaks and hazelnuts with a few pinus pinea (pine nut bearing pines) in the mix as well. Limestone Hills in unique in that it produces three of the major truffle varieties, being Périgord black truffle, the Bianchetto white truffle, and the Burgundy truffle.  These truffles all come with their own unique look, aroma and flavour profile (see more on styles).  While the varieties of truffle have certain attributes, the flavour can vary from truffière and also from within the truffière itself.
It is a slightly misty chilly morning that we follow Rosie and Gareth across the lawn down to the designated trees and within a few sniffs and digging (from Rosie) Gareth is gently lifting earthy, aromatic truffles from the soil.  Truffles are at their strongest when picked and to inhale the aroma of a freshly dug truffle is magnificent. It isn't long before Gareth fills a bag with a mixture of Bianchetto and Burgundy truffles.
While we are all of course itching to try said truffles, we first put our senses to the test at a wine/truffle masterclass at Muddy Water winery with some of the area's top winemakers. The talent and passion around that one table is extraordinary and we listen avidly to the stories of their terroir and vintages. The pairing of truffles and wine seems crazy but actually it really does work.  We rely on the truffle aroma while we imbibe some seriously good wine, listening to passionate and talented growers and winemakers.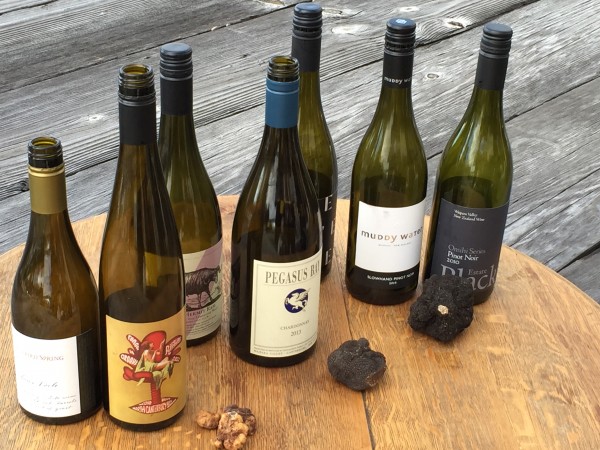 The lunch, just along the road at family run Black Estate is a food lovers dream!
Seven courses of truffle delights matched with Black Estate wine while looking out through the vines and then paddocks to the snowy peaks of the Southern Alps is a luxurious way to spend an afternoon.
Every mouthful is a taste sensation, starting with bread from local artisan baker Rachel Scott topped with truffle butter, to local fish with truffle, meltingly tender beef with foraged greens and the best ever truffle mash. Over the Moon Brie layered with truffle has everyone swooning and it is apt we finish with Rachel's chocolate truffles, while soaking up the view in the warmth of the late afternoon sun.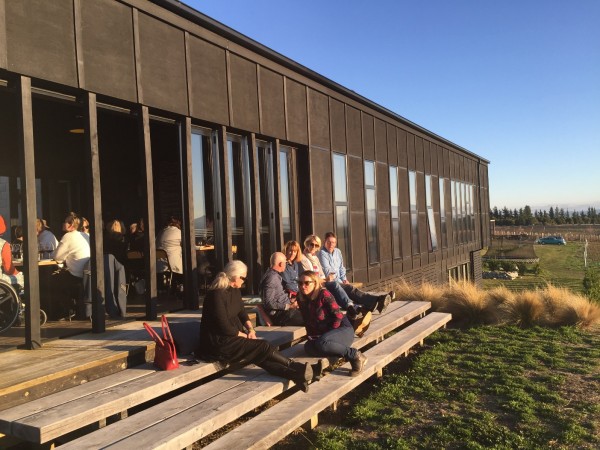 The taste of truffle is very much linked to the aroma as a total experience, it has a pungent earthiness that is difficult to describe in words – you might just have to try one!
Fact File
While truffles are available all year round they are generally associated with autumn/winter and it is arguably then that they are at their best.
For order inquiries contact Gareth Renowden [email protected]
Limestone Hills has cottage accommodation and you can also book truffle hunts.
Black Estate is the place to stop en-route from Christchurch to Picton, or as a destination from Christchurch.  The food is fabulous, the view stunning and the organic wine is sure to please.
Truffles are at their best when fresh and eaten raw or lightly cooked.  Excessive heat will destroy flavour and aroma.
Storing truffle in a sealed container with eggs will give truffle infused eggs plus you still get to use the truffle.
While truffles can fetch around $3000 kg, they do need specific growing conditions and can be unreliable at production.
For more information go to NZ Truffle