The sesason of gift giving is almost upon us and now is exactly the right time to start thinking of gifts from the kitchen that are made with thought and care and often more meaningful than more commercial choices.
Over the last few weeks we have asked for favourite gift ideas from foodlovers readers and have had a wonderful selection emailed in.  We could still do with more so if you have any that you would like to share then please let us see them.
One of my favourite finds is this recipe for Hot Chocolate Mix sent in by Danielle.  I think it sounds fantastic and also as it requires no cooking it is perfect for children to make.  Our 12 year old is planning to do this for her friends and accompany it with a mug and chocolate spoon as Danielle  suggested.
Along the same theme as the chocolate mix is Sand art Brownie. The layered ingredients in the jar look attractive and are easy for children to make.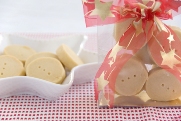 Christmas is the perfect excuse to indulge in shortbread and indulge I do!
I try and moderate my intake over 11 months of the year but come December I am there ready for shortbread in all its guises.  I don't have any fixed opinion on shortbread flavour and enjoy it with ginger, pistachio & orange, chocolate chip or the classic Ellen's Shortbread made from an old DIC department store recipe.  This Brown Sugar Shortbread gives a more caramel flavour and colour.
Next to shortbread, nuts are one of my favourite things about Christmas food.  My mother in law Jan makes these delicious Christmas Walnuts.  You can also make them with pecans but fresh walnuts are easier to find.  Other tasty nut ideas that have come in from our readers are Spiced Macadamia Nuts, Nuts and Bolts and Sugar and Spice Nuts
Amy's recipe for White Chocolate Rocky Road looks stunning and I am sure will taste it as well.  The colour combination of pistachio nuts and turkish delight are completely in tune with the festive season.
If white chocolate is not your thing then switch the chocolate variety or look at this alternative recipe Hersheys Rocky Road
White Christmas is popular and reasonably economical to make.  I use cranberries and dried apricots but you can vary the dried fruit to suit taste and budget.
Truffles are oh so Christmassy and great for an after dinner treat.   These Rich Chocolate Truffles are luscious and creamy or alternatively you could try Christmas Pudding Truffles,  White Chocolate Cointreau Truffles,  Chocolate Peppermint Truffles
I think I will put my energies into making the kids a gingerbread house but if anyone happens to  make this 3 dimensional Chocolate Christmas Tree then please do send us a photo as I am very keen to see how it looks!
Russian Fudge has had quite a lot of discussion on the foodlovers forum with varying recipes being looked at. I must admit to really liking this one that came from my friend Mary Russian Fudge.  Yes you do have to cook it for 20 minutes or so while stirring continuously but it makes a lovely creamy smooth fudge.
Jams, Chutneys and pickles all make wonderful homemade gifts.  If you have any to add to the list then please do so.