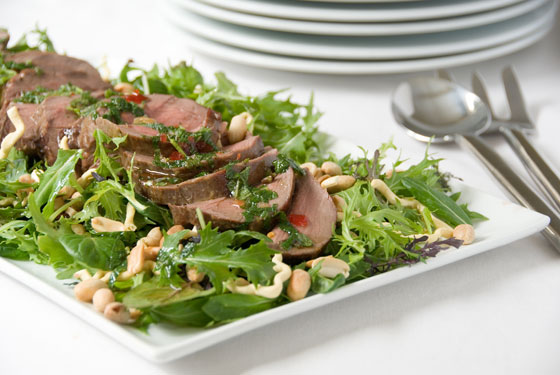 serves 6
Ingredients
1.5 kg beef fillet
2 teaspoons sesame oil
1 tablespoon wasabi paste
1 tablespoon soy sauce
3 cups mesclun salad mix
1/2 cup loosely packed basil leaves
1/2 cup loosely packed coriander leaves
1/2 cup dry roasted blanched peanuts
1 cup Highmarkk crisp fried noodles
dressing
2 tablespoons peanut oil
2 teaspoons sesame oil
3 tablespoons fish sauce
3 tablespoon lime juice
1 tablespoon sweet chilli sauce
2 teaspoons finely chopped palm sugar
1/4 cup finely chopped mint leaves
Method
Rub beef with combined sesame oil, wasabi and soy, allow to rest at room temperature for several hours prior to cooking.
Preheat oven to 220 C.
Cook beef for 20 minutes for rare or 30 minutes for medium.
Remove from the oven and allow to rest in a warm spot for 15 minutes.
Combine Mesclun, basil and coriander and place on a large serving platter. Sprinkle with peanuts and noodles.
Slice beef and arrange slices on leaves, drizzle with dressing and serve immediately.
Dressing: combine ingredients in a small bowl, mix to ensure sugar dissolves.