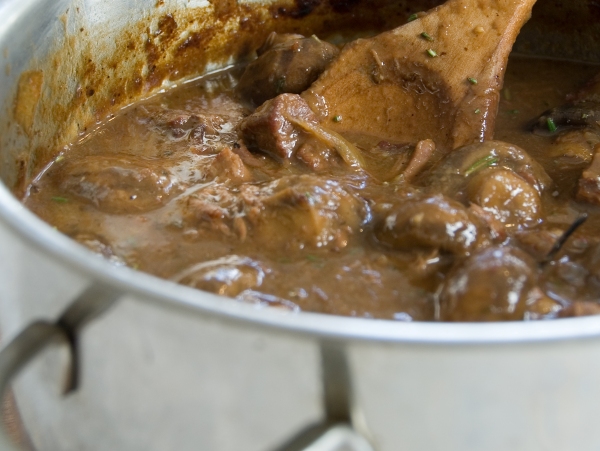 1.25 kg diced chuck steak
flour for dusting
salt and freshly ground black pepper
4 rashers streaky bacon, chopped
2 tablespoons olive oil
8 small pickling onions, peeled and cut into quarters
250g button mushrooms, halved if necessary
1 tablespoon freshly chopped herbs (eg. thyme, marjoram, rosemary)
440 ml can Guinness 2 cloves garlic, sliced
500 ml beef stock
2 tablespoons flour
Method
1. Toss beef in flour seasoned with salt and pepper. Heat olive oil in a large frying pan and cook beef and bacon in batches until beef is browned.  Transfer to the slow cooker.
2. Place onions in the frying pan along with mushrooms and a little more oil if needed.  Toss over a medium heat until golden.  Transfer to the slow cooker and add herbs, Guinness and stock.
3. Cook for 4 1/2 hours on high or 7-8 hours on low.
4. Mix flour to a paste with 3 tablespoons of cooled liquid from the cooker; add to the pan and cook for a further 15 minutes before serving.