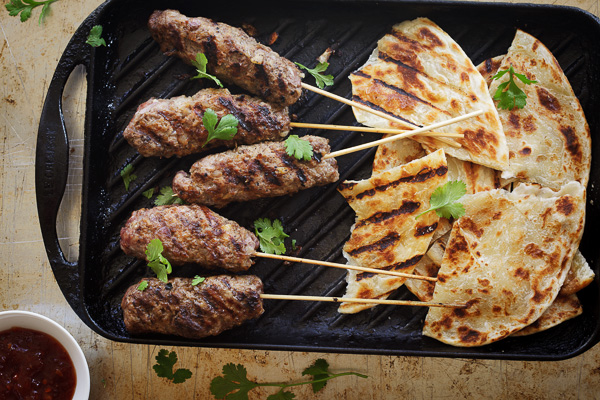 Ingredients
550g beef mince

250g pork mince

2-3 cloves garlic, crushed and finely chopped

5 shallots, finely chopped

1 tablespoon finely chopped lemon grass

2 tablespoons fish sauce

2 teaspoons finely chopped palm sugar

freshly ground black pepper
Method
Combine all the ingredients except coriander leaves in a large bowl, mix really well and then cover and refrigerate for an hour or more to allow the flavours to develop.
Soak 12 bamboo skewers in a glass of water.
With wet hands divide the mince into 12 portions and roll each into a sausage shape. Slide a skewer into each.
Heat a griddle, large frying pan or barbecue, spray with a film of oil and cook the skewers until well coloured and cooked through.
Serve with coriander,  roti bread, salad and sweet chilli sauce.