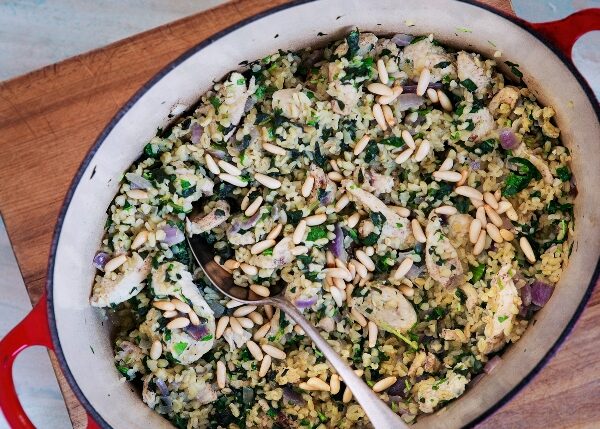 Ingredients
1

tablespoon olive oil

2

tablespoons butter

1

large red onion, finely diced

2

cloves garlic, crushed and chopped

a pinch of

allspice

a pinch of

cinnamon

450g

chicken breast, skinless and boneless and chopped into small pieces

125g

bulgur wheat (coarse if you can get it)

2 cups

chicken stock

250g

spinach, coarse stems removed and very finely chopped

2 tablespoons

chopped mint

1 teaspoon

chopped dill

1/4 cup

pine nuts, lightly toasted (or almonds or walnuts)
Method
In a heavy based saucepan or casserole heat the olive oil and  butter over a medium heat and then sauté the onion for about 10 minutes, add the garlic towards the end. Add the chicken and stir to coat with the oil, cook for a minute or two before adding the allspice, cinnamon and bulgur wheat.
Add the chicken stock and season with salt and pepper, bring to the boil and then cover and cook for 10 minutes on a very low heat. Take off the heat and stir through the spinach and herbs, set aside to rest for 5 minutes, covered.
Adjust seasoning to taste. Serve sprinkled with pine nuts.