Ingredients
2 tablespoons butter
1 medium red onion, finely chopped
1 1/4 cups basmati rice
500 ml chicken stock
finely grated rind of 1/2 lemon
1/2 cup pitachio nuts, lightly toasted
1/4 cup finely chopped parsley
sea salt & freshly ground black pepper
1 tablespoon oil
4 white fish fillets
Method
Heat the butter in a heavy saucepan or cast iron casserole on the stove top and gently cook the onion until just tender. Add rice to the pnion and stir to coat the grains of rice with butter. Increase the heat and pour over the stock, lemon rind and season with sea salt and pepper.
Cover and bring to the boil, reduce to the lowest possible simmer and allow to cook, covered, for 20 minutes. Stir pistachio nuts and parsley through the pilaf.
Meanwhile heat oil in a frying pan and cook fish fillets seasoned wtih salt for 2-3 minutes on each side until just cooked through.
Serve pilaf with fish and a slice of lemon or lime.
[homepageimage]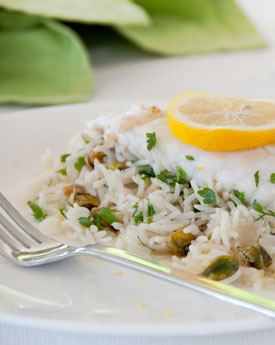 [/homepageimage]
[smallimage]

[/smallimage]