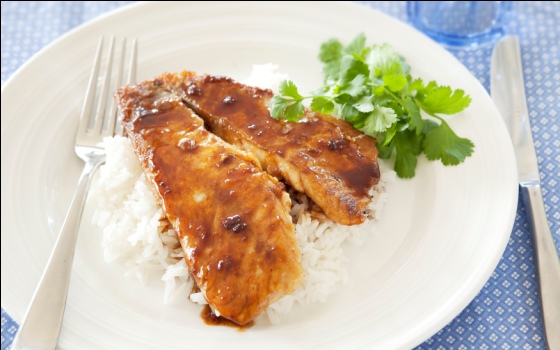 By
Ingredients
4

white fish fillets

1 tablespoon

flour

oil

1 tablespoon

sweet chilli sauce

2 teaspoons

grated palm sugar (or brown sugar)

2 teaspoons

freshly grated ginger

1 teaspoon

sesame oil

1/4 cup

soy sauce

coriander leaves
Method
This is a favourite of mine and something I make regularly. Don't worry if the fish fillets break while you are tossing in the sauce just arrange pieces with the vegetables or noodles that you are serving them with.
Dust the fish fillets with flour. Heat a film of oil in a frying pan and when hot add the fish and cook for a minute or two on each side until the flour starts to colour and the fish is just cooked.
Combine the soy, ginger, chilli sauce, sesame oil and sugar in a small bowl and then pour over the fish in the pan.  Immediately remove the pan from the heat and  turn the fish to coat with the sauce.
Serve the fish with coriander leaves, steamed greens, rice or noodles.