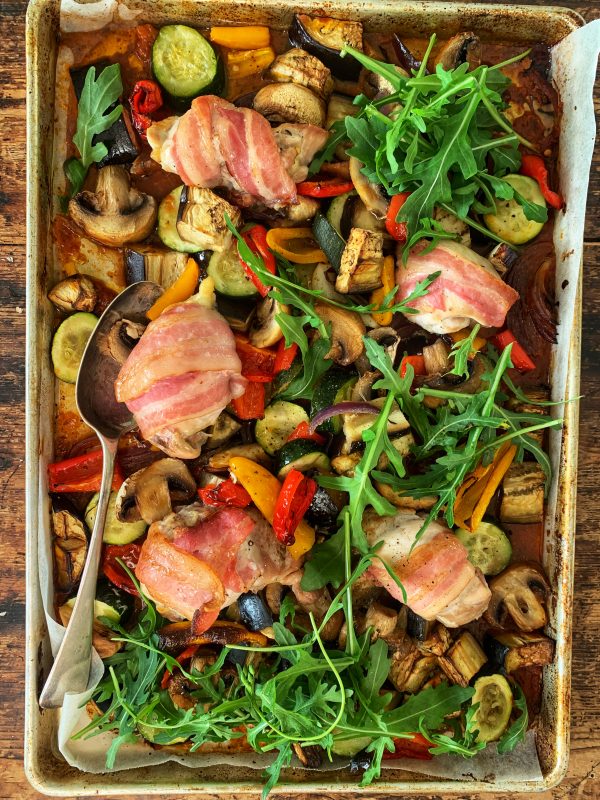 Tray bakes are so simple and there are no messy dishes, particularly if you line the tray first.  :)
Ingredients
250ml/1 cup

tomato basil pasta sauce

1 medium

red onion, sliced lengthways

3 cloves

garlic, sliced

12

button mushrooms, sliced

3

zucchini, sliced

1

red capsicum, sliced lengthways

1

yellow capsicum, sliced lengthways

1

eggplant, chopped into 2cm chunks

olive oil

500g

chicken thigh fillets

4-5

slices streaky bacon

2 large handfuls

rocket leaves
Method
Preheat the oven to 200 C fan bake.
Line a shallow baking tray (approximately 40 x 30cm) with baking paper.
Spoon the pasta sauce into the base of the tray and then cover with the vegetables.  Drizzle with a little oil and season generously with sea salt and freshly ground black pepper.
Bake the vegetables for 10 minutes.  While the vegetables are cooking wrap the chicken with bacon.  Arrange the chicken on top of the vegetables and cook a further 20 minutes until the chicken is cooked, the bacon starting to crisp and the vegetables tender.
Scatter with rocket leaves before serving.