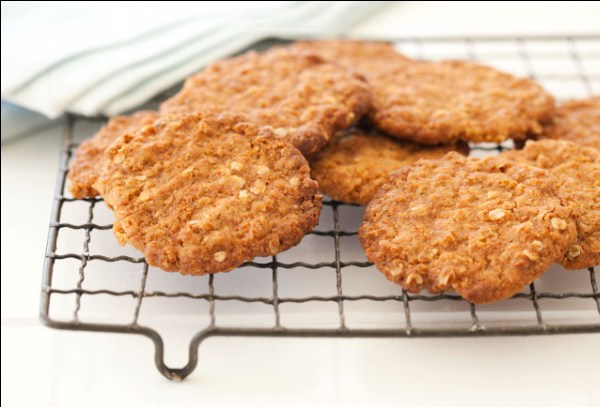 Ingredients
125g

butter

2 tablespoons

golden syrup

1/2 teaspoon

baking soda

2 tablespoons

boiling water

1/2 cup

sugar

1 cup

rolled oats

3/4 cup

coconut

1

cup flour
Method
Preheat oven to 180 C
Gently melt the butter and golden syrup together.
Mix the sugar, oats, coconut and flour together in a bowl
Dissolve the baking soda in boiling water and ado to the golden syrup mixture.
Add the liquid to the dry ingredients and mix well.
Roll the mixture into balls and place on a greased or lined  tray, flatten with a fork. Bake for 15 minutes until a golden brown colour.
*The more you flatten the biscuits and the longer you cook them for, the crunchier they will be.  For chewy biscuits leave them a bit thicker and don't over cook.
* I like a crunchy biscuit and often add an extra tablespoon of golden syrup and also press them flat.