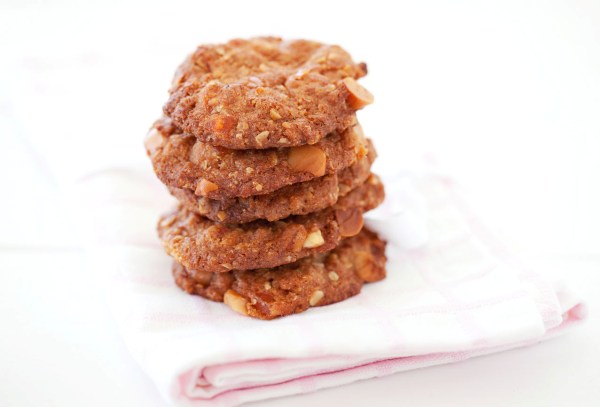 Whether the original version of the Anzac Biscuit is Australian or New Zealand is undecided.  This version is for the Aussies – with both macadamias and mango.
Ingredients
125g

butter

2 tablespoons

golden syrup

1/2 teaspoon

baking soda

2 tablespoons

boiling water

1/2 cup

sugar

1 cup

rolled oats

3/4 cup

dessicated coconut

1 cup

flour

100g

dried mango slices, chopped

1/2 cup

roughly chopped macadamia nuts
Method
Preheat oven to 180 C
Melt butter and golden syrup, dissolve baking soda in boiling water and add. Mix sugar, oats, coconut and flour in a bowl and add liquid. Mix to combine, and then add the chopped mango and macadamias.
Roll into balls and place on a greased tray, flatten with a fork. Bake for 12-15 minutes until a golden brown colour.