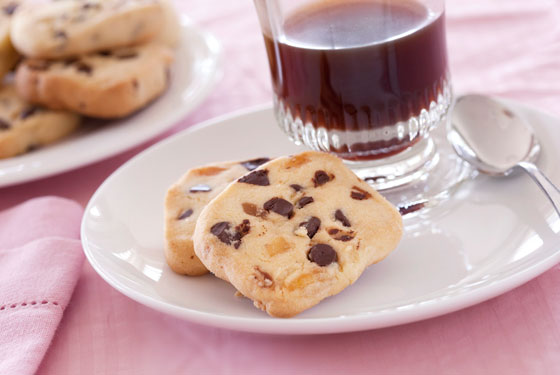 .
Ingredients
250 g butter
1 cup icing sugar
1 cup cornflour
1 3/4 cup plain flour
1/2 cup finely chopped crystallised ginger
1/2 cup chocolate bits
Method
Preheat oven to 150 C.
Beat butter and icing sugar together in a bowl until light and fluffy.
Add cornflour, flour, ginger and chocolate and mix well. Tip mixture out onto a lightly floured bench and knead for 5 minutes until smooth.
Roll into 4 x 15 cm logs (for small pieces) and slice into 1 cm thick slices.
Place on a cold tray and prick with a fork.
Bake for 25 minutes until cooked but still pale.