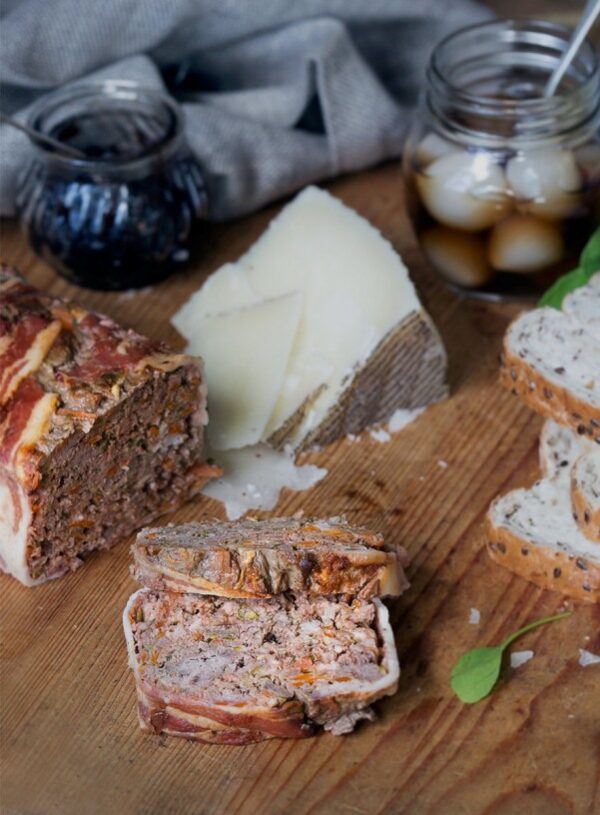 Ingredients
4

pork sausages (as rustic as possible)

500g

beef mince

1

onion, grated

1/4 cup

very finely sliced celery

1

carrot, grated

6

button mushrooms, grated

1/4 cup

finely chopped parsley

1 tablespoon

Worcestershire sauce

2 tablespoons

tomato paste

1egg, lightly whisked

1 cup rolled oats (or breadcrumbs)

Salt and freshly ground black pepper

8 slices streaky bacon, rind removed
Method
Preheat the oven 160 C.
Squeeze the sausage meat from their casings into a large bowl. Add the mince, onion, carrot, celery, mushrooms, parsley, tomato paste, Worcestershire sauce, egg, oats, salt and pepper.
Combine the mixture with your hands until well mixed.
Lie bacon across the base and up the sides of a 25cm loaf tin, allowing the excess to drape over the tin.  Pile the meat mixture into the tin and firmly press into shape.  Bring the bacon back up over the top of the meat..
Bake for 1 – 1 1/4 hours until the loaf is well cooked.