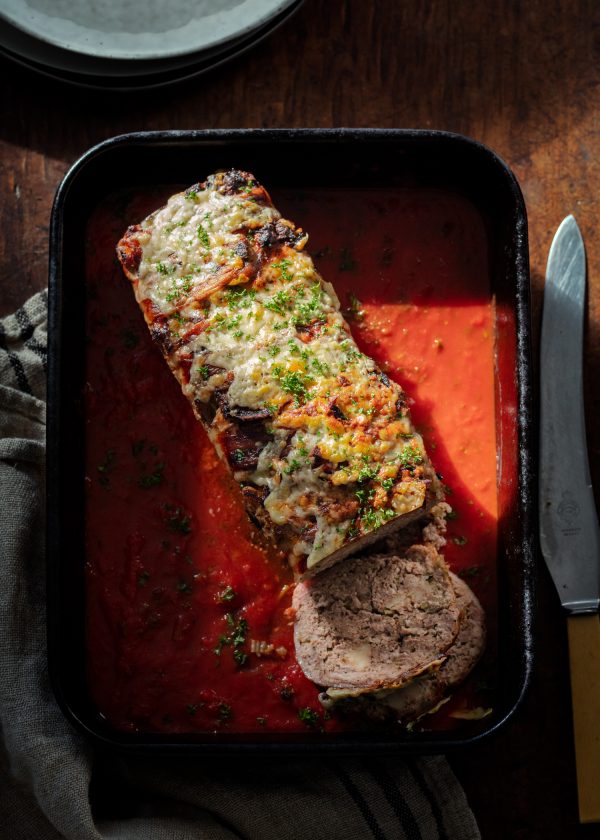 This tasty and economical meatloaf is great served hot for dinner and any leftovers make for a tasty packed lunch, either in a salad or sliced into a sandwich.
Ingredients
olive oil

1

onion, finely chopped

1 stalk

celery, finely sliced

3

cloves garlic, crushed and chopped

2 cups

fresh breadcrumbs

1/2 cup

milk

650g (23oz)

beef mince (ground beef)

350g (12.34oz)

pork mince (ground pork)

1

egg

2 teaspoons

dried oregano

1 teaspoon

fresh thyme leaves

2 tablespoons

chopped fresh parsley

1 tablespoon

Dijon mustard

2 teaspoons

miso paste (or 1 teaspoon marmite/vegemite)

2 tablespoons

ketchup style tomato sauce

salt and freshly ground black pepper

250g (8.8oz)

streaky bacon

1 cup

grated tasty cheddar cheese

2 1/2 cups

tomato pasta sauce

chopped parsley and/or basil to serve
Method
Preheat the oven to 200°C (400°F).
Add a film of oil to a small frying pan and gently cook the onion, celery and garlic for about 15 minutes until tender but not coloured.
At the same time place the bread crumbs in a large mixing bowl and pour over the milk.
Once the onion is tender then add the pan contents to the bread crumbs along with the mince, egg, herbs, mustard, miso, tomato ketchup and season with salt and pepper.
Lightly grease a 25cm loaf dish and line with bacon slices that cover the base of the dish and then alternating sides.  Let the excess slices drape over the outside of the dish for now.
Spoon the mince mixture into the dish and press to form an even shape.  Fold the bacon over the top of the mince.
Bake for 1 hour.
Sprinkle the grated cheese over the top of the meatloaf and bake or grill for a further 5 minutes until the cheese has melted.
Allow the meatloaf to rest for a few minutes while you heat the sauce in a small saucepan until bubbling.
Serve the meatloaf with hot sauce, sprinkle with chopped herbs.
Serves 6-8