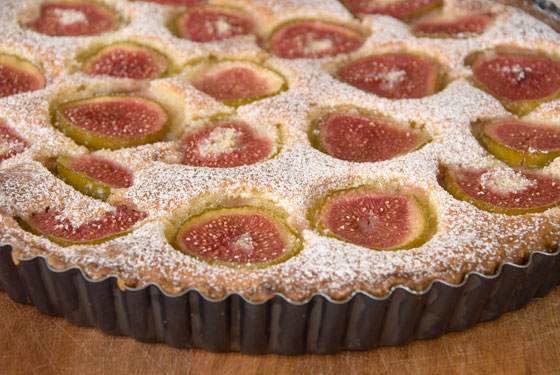 This tart is delicous and looks absolutely stunning.
Helen
Ingredients
sweet shortcrust pastry
125 g unsalted butter
125 g caster sugar
2 eggs
125 g ground almonds (almond meal)
1 tablespoon plain flour
5 ripe figs
Icing sugar for dusting
[
Method
Preheat oven to 180 C.
Line a 24 cm tart pan with pastry and bake blind for 15 minutes. Remove from the oven and allow to cool.
Beat butter and sugar until pale and creamy. Add eggs one at a time, beating well after each addition. Mix in the almonds and flour.
Spoon frangipane into the pastry shells. Slice figs cross ways and place them over the batter.
Bake for 30 minutes until frangipane is golden and set.