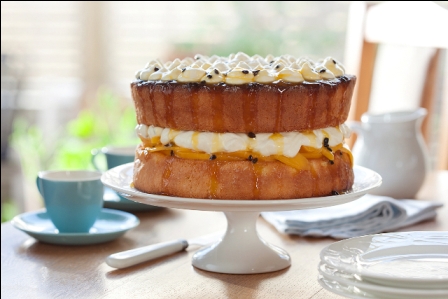 By
Ingredients
175g

plain flour

6

eggs

175g

caster sugar

75g

butter. melted

2 tablespoons

passioinfruit juice

1/2 teaspoon

vanilla essence

Passionfuit filling

2 tablespoons

passionfruit pulp

150g

creme fraiche

1

mango, peeled and cut into thin slices (or use canned mango slices)
Method
Preheat the oven to 180°C / 350°F on conventional bake.
Grease and line two 20cm round shallow sandwich tins with baking paper. Grease paper with a little more butter and sprinkle with a little flour or cornflour. Shake
off excess.
Sift the flour three times with the final time onto a piece of waxed kitchen paper.
Set aside.
Place the whole eggs and sugar in the bowl of an electric cake mixer with the whisk attachment.
Beat for 8-10 minutes or until thick and pale and tripled in volume and all the sugar crystals have dissolved. You can feel the crystals of sugar in the egg
white with your fingers if they haven't.
Take the bowl off the cake mixer and sift the flour into the mixture, folding gently as you go. Once all the flour has disappeared, take a spoonful of batter out
and mix it with the melted butter and passionfruit juice. Gently fold this portion back through the bowl of batter.
Place immediately into the oven and bake for 20-25 minutes or until the cakes are springy to touch and come away from the sides of the tins.
Allow to cool, for 5-10 minutes in the tin then turn onto wire racks. Remove the baking paper.
When cool, spread with crème fraiche mixed with passionfruit pulp, and top with fresh slices of mangos. Sandwich the two layers together and the sprinkle whole
cake with a little icing sugar or passionfruit icing to serve.
For expert sponge cake making information check out How to make the Perfect Sponge