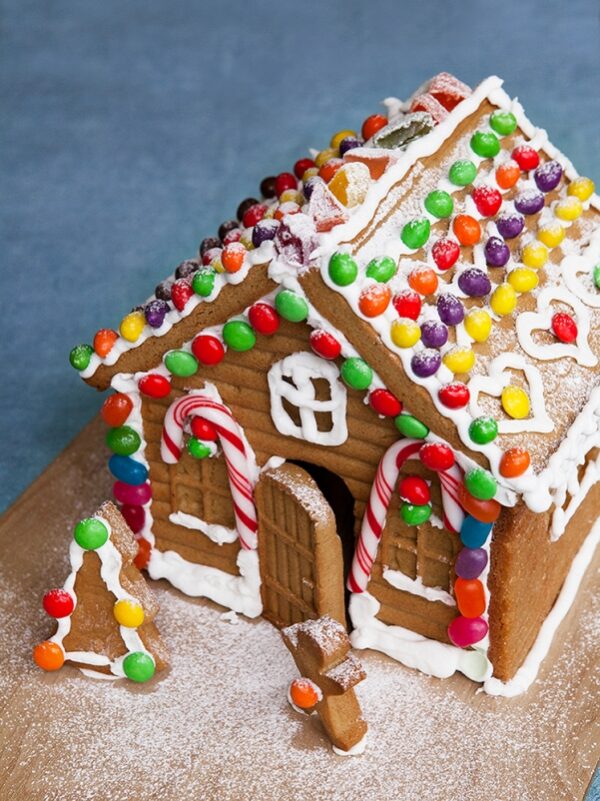 Ingredients
300g or 10 1/2 oz

golden syrup (or half golden syrup and half treacle)

180g or 6 oz

butter, softened

125g or 4 oz

brown sugar

4 cups (580g or 20 oz)

plain flour

1 tablespoon

ground ginger

1/2 teaspoon

baking soda
Method
Preheat the oven to 160 C.
Beat the syrup, butter and sugar until smooth. Add combined dry ingredients and mix well. You should have a soft and pliable but not sticky dough.
Either press the dough into molds or cut with templates with the following dimensions.
4 walls to the house being 15 cm (6 inches) wide x 10 cm (4 inches) high with the ends angling up to a height of 18cm.
2 panels of 12 x 16cm for the roof.
Left over dough can be made to form trees or small people.
Bake the gingerbread for 20 minutes until well coloured. The longer you cook it for the crunchier it will become.
Once cool, assemble using royal icing made by beating 2 egg whites with 2 cups of icing sugar and 1 tablespoon of lemon juice with an electric mixer until smooth and glossy.
Decorate with sweets.