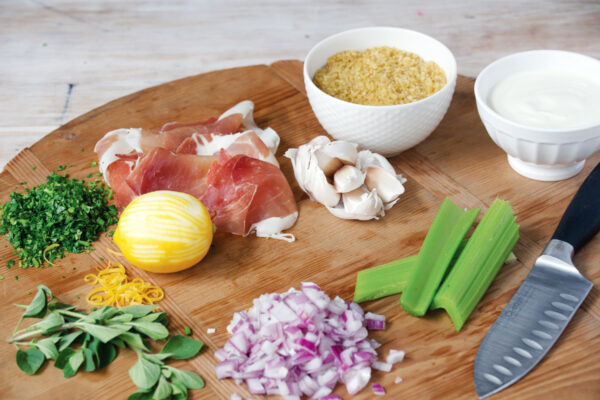 The lovely tang of yoghurt combined with lemon, prosciutto and the freshness of herbs, all combine to make this stuffing light and luscious yet very flavoursome.
(It is also wonderful with chicken).
Makes enough to stuff a size 4-5kg Turkey
Ingredients
1 cup bulgur wheat

1 red onion, finely chopped

2 cloves garlic, crushed and chopped

1 stalk celery, finely chopped

5 thin slices prosciutto, finely chopped

2 teaspoons dried oregano

¼ cup chopped parsley

finely grated zest of 1 lemon

1 cup full fat Greek yoghurt
Method
1
Place the bulgur wheat in a bowl and cover with boiling water, set aside for 15 minutes.
Meanwhile, heat a generous film of oil in a large frying pan and gently cook the red onion, garlic, celery, and prosciutto for 15 minutes or until the onion and celery are tender.
Remove the pan from the heat and then mix in the bulgur wheat, parsley and lemon. Stir the yoghurt into the pan and season with salt and pepper.
Spoon the stuffing into the turkey cavity, secure and cook as per package instructions.