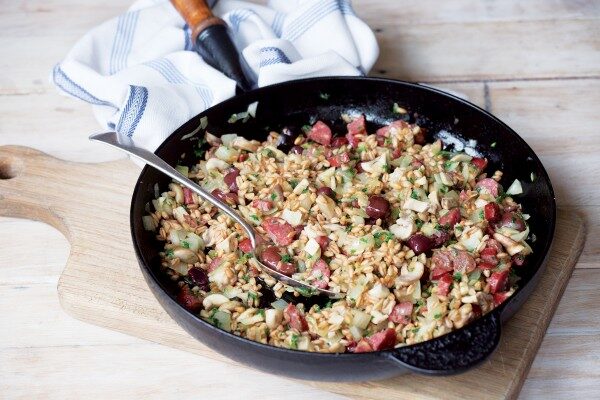 Ingredients
1 cup farro (or bulgur wheat or couscous*)

1 onion, diced

2 cloves garlic, crushed and chopped

100g chorizo, chopped into .5cm chunks

100g button mushrooms, finely sliced

½ cup Kalamata olives, pitted and roughly chopped

¼ cup chopped parsley

¼ cup pine nuts, lightly toasted
Method
Place the farro in a small saucepan and rinse well before covering with 2 ½ cups of cold water. Bring the water to the boil and then reduce to a simmer, cover and cook the farro for 20 minutes, drain well and set aside.  While the farro is cooking, heat a generous film of oil in a frying pan and gently cook the onion and garlic for 10 minutes until the onion is starting to soften.  Add the chorizo and mushrooms and cook a further 5 minutes before adding the olives, parsley and pine nuts.  Add the drained farro to the pan, mix well and add salt and pepper to taste.
Spoon the stuffing into the turkey cavity, secure and cook as per package instructions.
Any excess stuffing can be served warm alongside the turkey.
*If using bulgur wheat or couscous then cook according to packet instructions.