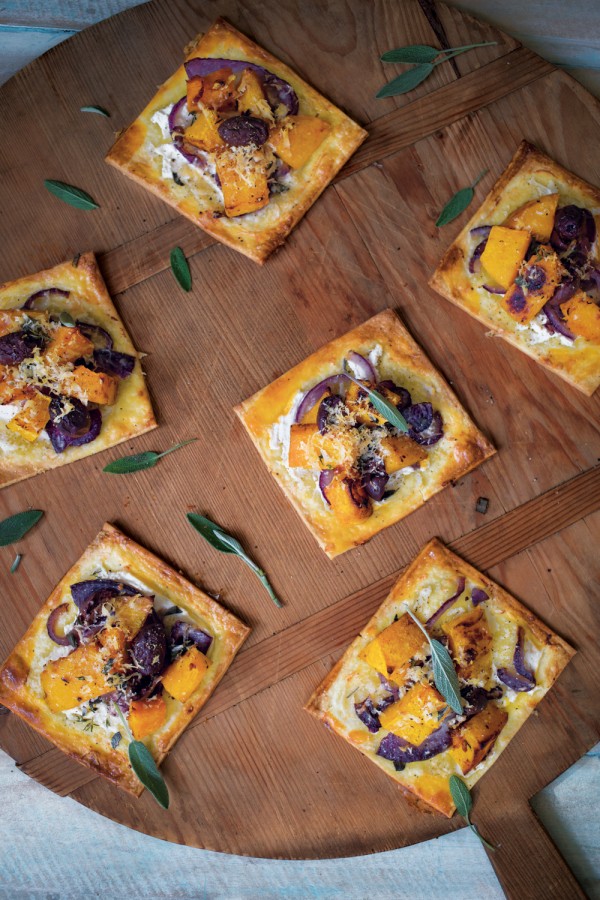 Ingredients
1 red onion, sliced lengthways

450g

pumpkin, chopped to 2.5 cm (1 inch) chunks

2 sheets (300g) frozen shortcrust pastry

3/4 cup (180g) ricotta

12 Kalamata olives, pitted and halved

3/4 cup grated Parmesan cheese

6 sage leaves, roughly chopped plus extra for garnish

1 egg yolk, lightly whisked

extra virgin olive oil
Method
Preheat the oven to 200 C (Just under 400 F)
Place the onion and pumpkin in single layer in a small roasting dish, drizzle with a little olive oil, season with salt and pepper and cook for around 20 minutes until the onion has softened and the pumpkin is just tender.
Cut each pastry sheet into 4 squares, making 8 in total.
Arrange these on a baking tray.
Spread a tablespoon of ricotta in the center of each square.
Arrange onion, pumpkin, olives and sprinkle with olives, parmesan and sage leaves.
Brush the edges of the pastry with egg yolk and then drizzle a little olive oil over the vegetables.
Bake for 15 minutes or until pastry is golden and crisp.
Serve warm or at room temperature.