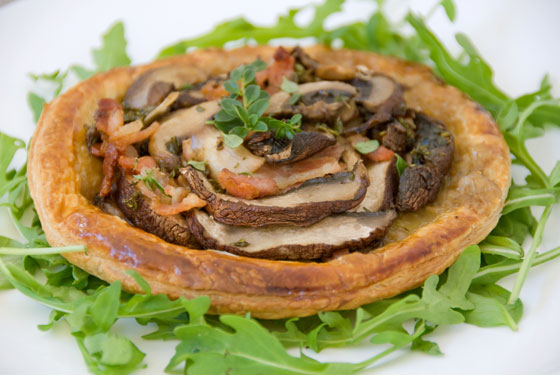 Ingredients
4 sheets puff pastry
3 cups thinly sliced mushrooms
4 rashers bacon, cooked and chopped
1 tablespoon fresh thyme leaves
2 tablespoons chopped parsley
salt and freshly ground black pepper
25g butter
1 egg yolk, lightly beaten
Method
Preheat oven to 220 C. Cut pastry into 4 x 14cm circles. Mark a rim 2cm inside the outside of each circle with a sharp knife, taking care not to cut through the pastry. Place pastry circles on a baking tray. Prick the inside of the pastry circle with a fork. Cover the pastry with bacon and mushrooms - taking care to leave the 2 cm edge clear of topping. Soften the butter and mix with the herbs. Divide the herb butter into 4 and place on top of each mushroom stack.
Brush the edge of the pastry with the egg yolk and bake for 15 minutes until pastry edge is puffed and golden and the mushrooms are tender.
Serve with mixed leaves.