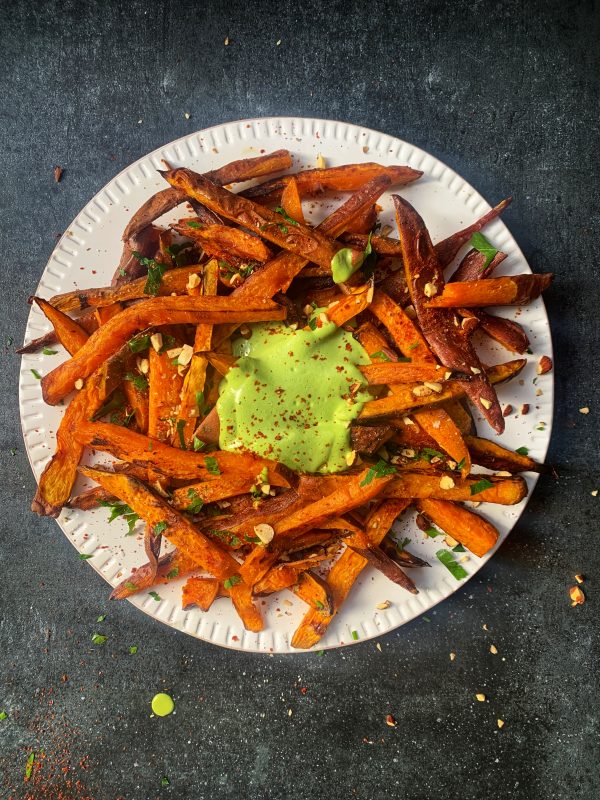 These fries with green tahini are not only visually gorgeous but they also taste fantastic too.
Serve them as finger food or as part of a shared meal.
Aleppo chilli flakes (from Syria/Turkey) have a wonderful earthy fruity flavour with some heat but nothing like your regular chilli flakes.  Buy a bag and share amongst a few friends!
Ingredients
2

large orange kumara

1-2 tablespoons olive oil

olive oii

sea salt

1/4 cup

tahini

1 clove

garlic

a handful of

mixed parsley, coriander and basil leaves

1

tablespoon oliive oil

1

tablespoon lemon juice

1

teaspoon Aleppo chilli flakes

1/4 cup

chopped tamari almonds

1/4 cup

chopped Italian parsley
Method
Preheat the oven to 210 C.
Chop the kumara into long thin chips, leaving the skin on.
Arrange the kumara in a single layer in a large roasting dish, drizzle with a little olive oil and toss to coat.
Bake for 20-25 minutes, turning at times, until crisp and starting to colour.
While the fries are cooking place the tahini, garlic, herbs, second measure of olive oil and lemon juice into the bowl of a small blender.  Add 1 tablespoon of chilled water and season with salt. Blitz until smooth. The mixture should be thick yet pourable, add more cold water as needed to get to the right consistency.
Once the fries are cooked, arrange on a serving plate, season with sea salt.
Create a mound of green tahini in the centre (or serve it separately in a bowl)  and then sprinkle with Aleppo chilli, tamari almonds and parsley.
Serve at once.