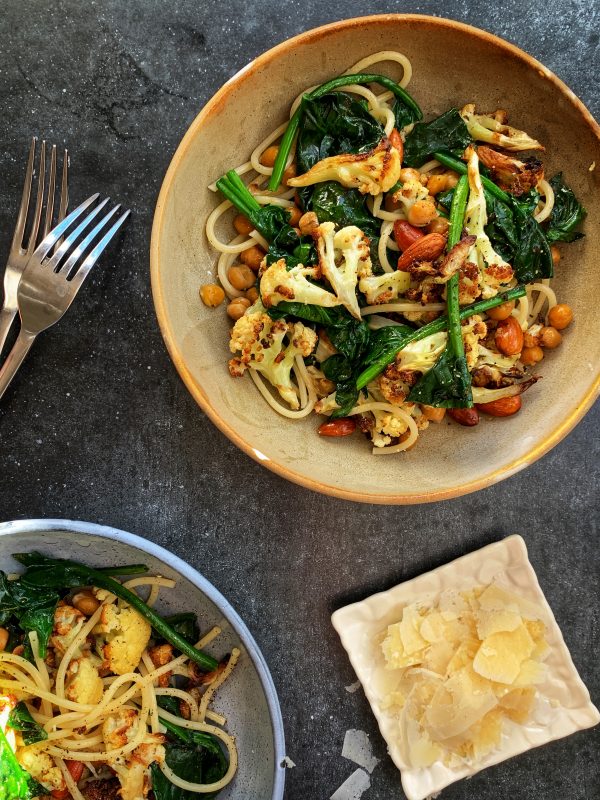 This simple vegetarian pasta is a winter delight.  Roasting cauliflower creates a lovely caramelised flavour and it becomes crisp around the edges.
Ingredients
1

small head cauliflower

olive oil

1 teaspoon

ground sumac

200g

canned chickpeas

1/2 cup

natural almonds

200g

spinach, trim the base of the stems

240g

dried spaghetti

extra virgin olive oil

1/2 cup

shaved Parmesan cheese
Method
Preheat the oven to 200 C fan bake.
Divide cauliflower into small florets, place in a roasting pan, drizzle with a glug of olive oil and toss to coat.  Make sure the florets are in a single layer, sprinkle with the sumac and a little salt and bake for 20 – 25 minutes, adding the chickpeas and almonds to the pan after the first 10 minutes.  Once cooked, gently mix the spinach into the pan and return to the oven for 5 minutes, just until the spinach has wilted.
While the cauliflower is cooking, bring a large saucepan of salted water to the boil and cook pasta for 8-10 minutes or until just tender.   Drain the spaghetti and drizzle with extra virgin olive oil.
Serve the pasta topped with the cauliflower, chickpeas, almonds and spinach.
Season generously with freshly ground black pepper and serve with shaved Parmesan cheese.