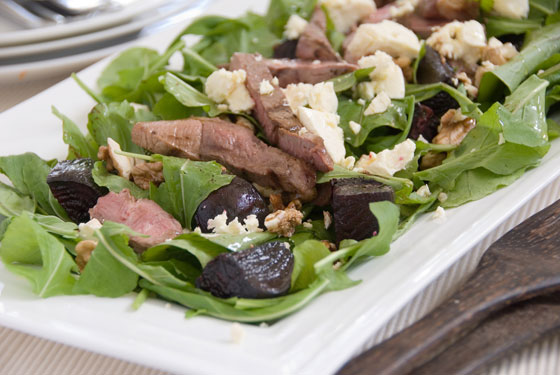 serves 4-5
Ingredients
3-4 medium beetroot
500 g lamb fillet
150 g feta cheese
3 cups rocket leaves
1/2 cup walnuts, toasted
1-2 tablespoons balsamic vinegar
1/4 cup extra virgin olive oil
Method
Preheat the oven to 160 C.
Wash and trim the beetroot and chop into quarters. Place the beetroot in a baking dish along with a drizzle of olive oil and cover with foil. Bake for 1 hour or until beetroot is tender.
Ensure that lamb is at room temperature, brush with oil and season with salt and freshly ground black pepper. Heat a frying pan or grill and cook lamb over a high heat for 4-5 minutes until well browned on each side. This will give medium rare meat.
Remove the lamb from the pan and set aside to rest for 5 minutes.
Arrange the rocket on a serving platter, toss through the walnuts, crumbled feta cheese and beetroot. Slice the lamb diagonally into 1 cm thick slices. Arrange lamb over the salad and drizzle with dressing.